Smith & Wesson begins shipping BODYGUARD line
SPRINGFIELD, Mass. (July 27, 2010) — Smith & Wesson Corp., the legendary 158-year old firearms maker announced that it has begun shipping the new BODYGUARD 380 semi-automatic pistol and BODYGUARD 38 revolver. Incorporating the latest advancements in personal protection technology, the new BODYGUARDS offer consumers a new uniquely engineered, lightweight, self-defense firearm with built-in laser sights.
"The new BODYGUARD 380 pistol and 38 revolver combine our company's innovative design and manufacturing techniques with the technology of one of the industry's leading laser optic companies, Insight Technology," said Tom Kelly, Vice President of Marketing for Smith & Wesson. "Each model has truly been designed and built from the ground up in order to provide consumers with a reliable and quality firearm that matches their personal protection needs. The BODYGUARD products are unique as they are the first handguns designed with built-in lasers. Both the pistol and the revolver are lightweight, compact and concealable for personal protection and concealed carry."
BODYGUARD 380 Pistol
Compact, sleek and ergonomic, the BODYGUARD 380 delivers personal protection in an easy-to-carry platform. Chambered in .380, the lightweight pistol features a high-strength polymer frame with a black, Melonite® coated stainless steel slide and barrel. The new BODYGUARD 380 is standard with a 2 ¾-inch barrel, which contributes to an overall length of 5 ¼-inches and an unloaded weight of only 11.85 ounces.
The new pistol features a double-action fire control system, which allows for rapid second-strike capability. The BODYGUARD 380 has been further enhanced with a smooth trigger pull. Adding to its simplicity, the BODYGUARD 380 is standard with a manual thumb safety and an external take down lever and slide stop. On the lower portion of the frame, the pistol has been fitted with an integral INSIGHT® laser, which is easily operated by both left and right-handed shooters. With its slim-line ergonomic grip, the pistol is comfortable in the hand and points naturally. To help aid in quick sight acquisition when the laser is not in use, the pistol includes black, Melonite-coated, stainless steel, drift adjustable dovetail sights. The BODYGUARD 380 is standard with a 6+1 magazine capacity.
BODYGUARD 38 Revolver
Chambered in .38 S&W Special +P, the BODYGUARD 38 continues Smith & Wesson's line of reliable small-frame self-defense revolvers. The BODYGUARD 38 delivers the optimal combination of accuracy and simplicity. With its lightweight design, the BODYGUARD 38 allows for discreet carry and its hammerless design provides a snag-free presentation. The five-shot revolver features a short 1.9-inch barrel, which contributes to a compact overall length of 6.6 inches.
Weighing in at 14.3 ounces, the BODYGUARD 38 features a one-piece aluminum alloy upper frame along with a steel reinforced polymer lower frame. The barrel and cylinder on the revolver are both stainless steel. The stainless steel cylinder is coated with a durable, non-reflective, matte black PVD finish for long term carrying and low light presentation. Designed to accommodate both left and right-handed shooters, the revolver features an easily manipulated ambidextrous cylinder release on the top of the frame. The revolver is further enhanced with an ergonomic one-piece rubber grip and a smooth trigger pull.
On the right side of the frame, the revolver has been fitted with an integral INSIGHT laser, allowing precise shot placement in low light conditions. For fast target acquisition when the laser is not in use, the revolver sports a notch-style rear sight and a pinned black blade front sight. The BODYGUARD 38, with its double-action only design, can be easily concealed for discreet carry.
INSIGHT Laser
At the core of the new BODYGUARD line of firearms is the capability of the INSIGHT laser. Allowing for optimal accuracy, both the BODYGUARD 380 and 38 are fitted with a red laser sight designed and produced in conjunction with Insight Technology. A world leader in the design, development and manufacture of tactical lasers, Insight Technology designed the integrated laser system to perfectly mate with the new pistol and revolver. Accurate, durable and easily adjusted, the integral laser provides shooters with added confidence by enabling quick sight acquisition under low light conditions.
The integrated laser sighting system enables faster target acquisition for shooters of all experience levels. By working closely together and designing the firearm and laser sight system to be integral, Smith & Wesson and Insight Technology have achieved a value proposition that allows more firearm customers to afford laser sighting system technology.
The BODYGUARD 380 pistol has an MSRP of $575 and the BODYGUARD 38 revolver has an MSRP of $625.
For more information regarding the new BODYGUARDS, please visit www.smith-wesson.com.
About Smith & Wesson
Smith & Wesson Holding Corporation (NASDAQ: SWHC) is a U.S.-based, global provider of products and services for safety, security, protection and sport. The company designs and constructs facility perimeter security solutions for military and commercial applications, and delivers a broad portfolio of firearms and related training to the military, law enforcement and sports markets. SWHC companies include Smith & Wesson Corp., the globally recognized manufacturer of quality firearms; Universal Safety Response, a full-service perimeter security integrator, barrier manufacturer and installer; and Thompson/Center Arms Company, Inc., a premier designer and manufacturer of premium hunting firearms. SWHC facilities are located in Massachusetts, Maine, New Hampshire, and Tennessee. For more information on Smith & Wesson and its companies, call (800) 331-0852 or log on to www.smith-wesson.com; www.usrgrab.com; or www.tcarms.com.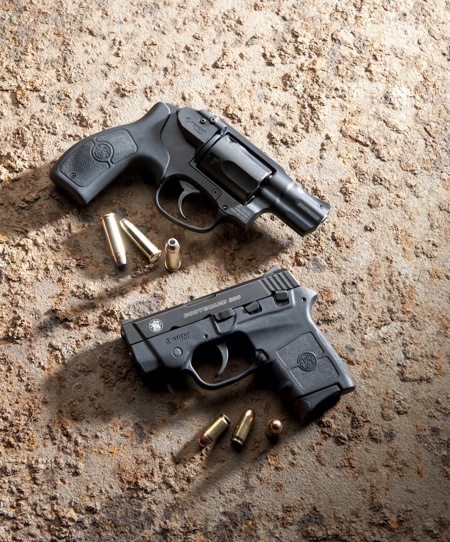 About The WON

The Women's Outdoor News, aka The WON, features news, reviews and stories about women who are shooting, hunting, fishing and actively engaging in outdoor adventure. This publication is for women, by women. View all posts by The WON →