Annual ICAST show spotlights new fishing gear
Las Vegas, Nevada – At first glance, Las Vegas and sportfishing seem to fit together as well as a Boston Red Sox reunion held at Yankee Stadium. There's not just a virtual absence of fishable water in the desert, but also the fact that come mid July, most anglers would rather be almost anywhere than the steamy heart of Sin City. And yet, that's exactly where you found the fishing industry's best and brightest minds and products in mid-July. Not coincidentally, Las Vegas' ICAST show was also the place to be for tackle manufacturers all jazzed up to unveil their new wares. While dozens of innovative new lures, rods, reels, and accessories sparkled in booths up and down the aisles, a number of true "must-haves" separated themselves from the masses.
Foremost among them was the introduction of super advanced, ergonomically engineered foul weather gear by fishing-focused Frabill. Their FXE Stormsuit dominated the voting in ICAST's Best New Apparel category, voted on by tackle buyers and the outdoor media. Termed "Frabill Extreme Elements," FXE Stormsuit is the most intelligent rainwear yet developed, offering such advanced features as a vented, four-way adjustable hood, "dolphin-skin" storm flaps and YKK™ Aquaguard zippers, deluxe internal sunglass wipe and even a memorable (and handy) "Spillway" in the bibs for, well, quick relief without having to remove the rest of the suit. Tested and endorsed by Hall of Farmer Al Lindner, FXE Stormsuit is the first serious duty raingear to reach the market in years. The FXE Stormsuit—jacket and bibs sold together or separately— becomes available in November, www.stormsuit.frabill.com.
Meanwhile, a search for more high-level technology led ICAST show goers to a pair of new electronics devices. MarCum Technologies has brought virtual HD viewing quality to underwater cameras, offering the new MarCum VS825SD Viewing System. Complete with new Sony Super HAD II CCD high-resolution optics and Solar Intelligent LCD display technology, MarCum has taken underwater viewing to the same technological levels as the other fish-finding/GPS tools in your boat. The VS825SD even offers a dual switchable Color/B&W LCD that yields optimal underwater clarity in all conditions. On-screen digital displays of water temperature, depth, camera direction and battery voltage round out an ultra-packed catalog of useful features, www.marcumtech.com.
In the same vein as the iPhone and other handheld apparatuses comes the ShowDown Troller—a premium palm-sized sonar unit that performs ideally in small boats, kayaks and ice fishing, allowing for extreme mobility and portability in any aquatic setting. Much more than a compact depth finder, however, the Troller sports multiple high-end sonar features, such as 25-level Sensitivity, Auto Range to 120-feet and an easy to read digital vertical LCD matched to an intuitive push-button operating system. Runs up to 20 continuous hours on six AA batteries, or much longer with a 12-volt power source, www.showdownfishfinder.com.
Northland Fishing Tackle has made a habit of producing technical and trusted tackle, which was exactly the motivation behind the development of BIONIC Fishing Line. The concept was simple: spend less time choosing the right line and more time catching fish. Hard to argue with that, right? BIONIC monofilament is offered in four different formulas, each developed with the necessary traits to match the species and associated environmental conditions – Bass, Walleye, Panfish and Ice. Bass and Walleye lines are offered in clear and the conceptually brilliant CoverFlage™ camo pattern, which gradually transitions between 4 different shades of green to brown, matching and disappearing amid a natural aquatic backdrop. Panfish and Ice also feature multi-shaded AquaFlage™ blue camo that matches the vertical "up-looking" feeding behaviors of panfish. A KWIK-SPOOL™ line slot allows for perfect, even reel spooling, straight from the box. Lines are also available in specialized pound-tests, including 3, 5, 7 and 15. Look for the colorful yellow BIONIC label to hit retailers this fall – www.northlandtackle.com.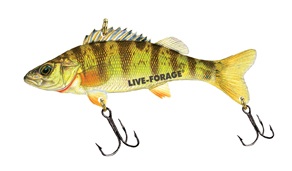 Staying with the trademark yellow family of products, Northland's new LIVE-FORAGE® BAITS simply must be seen (and fished) to be appreciated. These are virtual clones of living forage fish—the same bait species preferred by bass, walleye, pike, panfish and all fish that eat—digitally and magically transmogrified into jigging, casting and trolling spoons, bladebaits, spinner rigs and even jigs. New Digital-Imaging Technology has made it possible to bring livebait realism into the previously mechanical metal lure category. LIVE-FORAGE BAITS comprise an entire ReplicaSeries™ of lures, including the FISH-FRY MINNOW® JIG, FISH-FRY MINNOW® SPOON and FISH-FRY MINNOW® TRAP. Find species patterns from cloned Bluegills, Golden Shiners and Redtail Chubs to Gizzard Shad, Rainbow Trout and Yellow Perch, www.northlandtackle.com.
Speaking of livebait, StrikeMaster's new Bait Puck Plus is the slickest critter carrier to grace baitshop shelves for ice fishing 10-11. Not sure who ever decided that waxworms, maggots and other creepy fish catchers should be sold in flimsy plastic and foam cups, but there should be fines and punishments. The crush-proof Bait Puck Plus not only protects and insulates your bait, it fits in your shirt pocket. Fill the Bait Puck Plus with critters and ordinary sawdust bedding. A clever moveable screen isolates bait from bedding—just give it a little shake and the mesh separates the "meat" from the "potatoes," meaning you get a pinch of bait, not clump of sawdust. Turn the Bait Puck Plus over again and open it from the opposite side (yes, it has two opposing screw-lock lids), doubling your access to fresh bait. For livebait anglers, it's as handy and necessary as it is simple. Visit www.strikemaster.com to see the complete family of Bait Pucks.
So, who says a desert oasis ain't a great place for fishermen during summer's dog days? Certainly not this roster of celebrated and trusted manufacturers.
Media Contacts:
Cory Schmidt
Traditions Media, LLC
218-568-4381
cory@traditionsmedia.com
Leslie Vick
Traditions Media, LLC
763-444-4036
leslie@traditionsmedia.com
About The WON

The Women's Outdoor News, aka The WON, features news, reviews and stories about women who are shooting, hunting, fishing and actively engaging in outdoor adventure. This publication is for women, by women. View all posts by The WON →