She's gone fishin' at South Shore Lodge in Canada
Next week the all-women's fishing trip at South Shore Lodge in Ontario, Canada takes place.
Gord Makara, the owner, has asked me to join the fun. So, my husband and I are heading up this week to "pre-fish" for a few days. The fishing takes place on Eagle Lake; a large (68,400 acres) Canadian shield lake. These lakes are marked with lots of structure–rock reefs, thick weed beds, and downed timber.
About 10 ladies are signed up to participate. Their resident guide will turn us on to the hot lure presentations and patterns for jumbo perch, walleyes, northern pike, and muskies.
The lodge is on an island in the middle of "the bush" so packing efficiently is in order. My list consists of the following things:
*garments (rain gear, waterproof shoes, spf shirts and zip off pants, fishing hat, etc.)
*variety of rods and reels spooled with braid or mono, depending on quarry.
*variety of lures for muskies and pike and jigs for walleye
*toiletries (picardin based insect repellent, sunscreen, etc.)
We've all selected the "American Plan" which means the lodge will prepare our meals. Most women truly appreciate the break from cooking! I especially like when we partake in a traditional shore lunch. The guide prepares fresh caught walleye, potatoes, beans, etc. on a nearby island.
I believe most of the women will be using camp boats. However, I am bringing up my 1750 Crestliner Fishhawk as I am most comfortable fishing out of it.
Their guides will help introduce boat operations to the fisherwomen not familiar with it.
Packing up the boat is a big job. In addition to all the fishing gear, one must anticipate any problems you might have with the boat itself. Thus, I've packed an extra prop (and the tools to change it), an extra trolling motor prop, oil, extra fuses, etc.
You must also follow all Canadian regulations–such as not bringing live minnows, nightcrawlers must be in bedding (not dirt), bringing a passport and second form of identification, buying an Outdoor Card as well as license, etc.
Yes, it's a bit of work to prepare for a Canadian fishing adventure. However, I return year after year because I love it so much. Fishing in the wilderness of a Canadian lake is so peaceful; there's nothing like it. Eagles are soaring, every point looks "fishy" and the summer days are cool and long. Nice-sized fish are plentiful and moose and bear sightings are not uncommon.
I look forward to fishing with other adventurous outdoorswomen. The "Girls Gone Fishing" trip doesn't start until Sunday evening, Aug 8th, but I'll make the drive north on Wednesday the 4th already. I start in Eagle River Wisconsin and will end up in Eagle River Ontario! I'll update as the week progresses–filling you all in on the gorgeous scenery, fantastic lodge, fun fisherwomen, and fishing reports. I hope to whet your appetites to join us all next year!
Check out their website: www.southshorelodge..com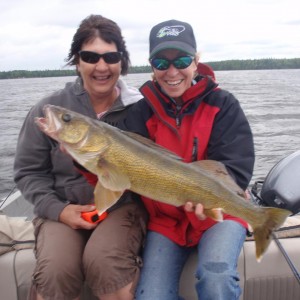 Patricia Strutz
About The WON

The Women's Outdoor News, aka The WON, features news, reviews and stories about women who are shooting, hunting, fishing and actively engaging in outdoor adventure. This publication is for women, by women. View all posts by The WON →