Compass Game Works Action Back original pack feeder/seeder: One spreader to fit all of your needs
Spread seed or feed wherever you need with The Action Back™ Original Pack Feeder/Seeder by Compass Game Works™. The Action Back™, available in Realtree™ AP camouflage, is the most versatile spreader ever designed. Constructed with aluminum, stainless-steel and plastic, The Action Back™ is both durable and lightweight. The adjustable downspout and reducing inserts allow it to spread any size feed, seed, fertilizer or pelletized mineral in hard-to-reach locations.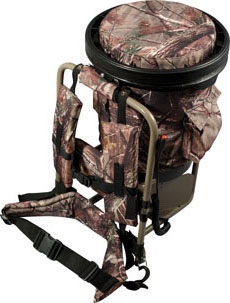 The Action Back™ is perfect for planting a "honey hole" or spreading attractant in those spots back in the thick stuff where the big ones like to hang out. With its 35 lb. capacity, you can also attach The Action Back™ to your ATV to plant larger food plots or feed out shooting lanes. Or, use the optional plug-in remote accessory along with the receiver hitch attachment to fit it on larger ATV's, UTV's, Bad Boy Buggies and trucks. When you've found a spot where you want to concentrate your feeding and hunting, you can hook up The Action Back™ with the hanging attachment and use the plug-in digital timer to feed at the prime hunting times while you're in the stand.
This one spreader fits all your needs, fits all your vehicles, and when used as a backpack, lets you comfortably take your feeding and seeding where most other spreaders can't. It even doubles as a swivel-hunting seat.
The Action Back™ comes standard as a backpack with a push-button switch and an ATV attachment that fits all standard ATV racks.
Accessories include a receiver hitch attachment, hanging attachment, plug-in remote, plug-in digital timer, and Ni-H 9-volt batteries and charger.
MSRP: $219.99.
For more information visit www.theactionback.com.

Let Compass Game Works™ put The Action Back™ into your hunting."

For a higher resolution image, please email
stephanie@mallorycommunicationsinc.com.
About The WON

The Women's Outdoor News, aka The WON, features news, reviews and stories about women who are shooting, hunting, fishing and actively engaging in outdoor adventure. This publication is for women, by women. View all posts by The WON →