Kim Rhode Shooting USA's 'Athlete of the Month'
If the shooting sports had an equivalent of a hat trick, triple-double, or grand slam, Kim Rhode would have accomplished it. Rhode has won four Olympic medals since 1996-one in each Olympic Games. After winning her first Olympic medal at sixteen, Rhode dominated Women's Double Trap and more recently, Women's Skeet. When Women's Doubles was removed from the Olympic program after 2004, Rhode turned her attention to Women's Skeet and won Olympic silver in Beijing in 2008.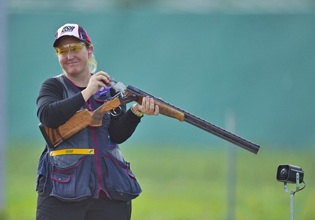 While all of this is certainly impressive, Rhode put the icing on the cake in August as she won her first World Shooting Championships gold medal. With her qualification score at 72 targets, Rhode entered the final tied with Slovakia's Danka Bartekova. Knowing that the gold was on the line, Kim stayed straight for 25 perfect targets while Danka cracked under the pressure. "It's great to finally win a World Title in front of my parents [who traveled with her]," said Rhode who shot 97/100 total targets. Don't forget that USA Shooting employs a point system to help select athletes for the Olympic Games and Rhode's win gives her 53 total points. With the threshold at 45 points, Rhode is well on her way to qualifying for London 2012, her fifth Games. Moreover, if she medals in London she will add her name to the record books as the first individual American athlete to win five medals in five consecutive Games. USA Shooting would like to congratulate Kim Rhode, the Athlete of the Month.
Photo courtesy of Wolfgang Shcreiber (c)2010 ISSF
Contact: katie.mcginty@usashooting.org
About The WON

The Women's Outdoor News, aka The WON, features news, reviews and stories about women who are shooting, hunting, fishing and actively engaging in outdoor adventure. This publication is for women, by women. View all posts by The WON →