Tasha Hanish makes it 2-in-a-row with Lady's Tactical Shooting Competition win
SEDRO-WOOLLEY, Wash. –– Cave Creek, Arizona's Tasha Hanish, a member of the FNH USA shooting team, won seven of 12 stages and dominated the field as she won the Women's Tactical division title for the second year in a row this past weekend at the U.S. Practical Shooting Association's (USPSA) 2010 DPMS MultiGun National Championships in Las Vegas, Nevada.
Hanish won the first four stages of the match, jumping out to a 62+ point lead over FNH USA teammate Dianna Liedorff of Sperry, Okla.
Hanish gave back a little more than three points as Liedorff won the fifth stage if the match, but then expanded her lead over Liedorff to more than 216 points with wins on stages six and seven.
Liedorff battled back with three consecutive stages wins before finishing second behind Hanish on the final stage of the match.
Hanish won the title with her final score of 1252.3448. Liedorff finished second with 1095.2133.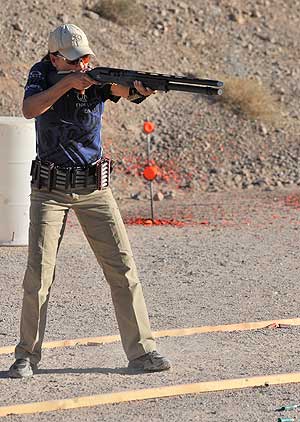 FNH USA Shooting Teams Tasha Hanish
"Tasha is quickly making a name for herself as one of the strongest women competing in MultiGun competition. Her dominating performance this weekend shows why she's the one to watch in future matches," said Michael Voigt, USPSA president.
Rounding out the top five were Denise Johnson of Thornton, Colo. in third with a final score of 972.9713. Fourth place, and a win on the eighth stage, went to Katie Harris of Taylorsville, Ga. who posted a final score of 957.3457 while fifth place went to Heidi Salman of Happy Valley, Ore. with 844.2410.
Daniel Horner of the U.S. Army Marksmanship Unit won the overall Tactical division title for the second year in a row with his final score of 2075.0824
Among the senior shooters, Kerry DeMatos of Oxnard, Calif. finished 16th overall and claimed the Senior Tactical division title with a score of 1557.8230 while Randy Askins of Ione, Calif. won the Super Senior title with a score of 858.3089.
More than 150 top shooters from 26 states, as well as Canada, competed in the 2010 DPMS MultiGun Nationals putting more than 19,000 rounds downrange during the competition. The format of the MutiGun Nationals tests a shooter's skill with three types of firearms – the rifle, the shotgun and the pistol.
The next major competition on the USPSA calendar is the 2010 USPSA Handgun National Championships scheduled for October 8 through 16 in Las Vegas, Nev. For more information, visit www.USPSA.org or follow @USPSA_Shooting on Twitter.
About The WON

The Women's Outdoor News, aka The WON, features news, reviews and stories about women who are shooting, hunting, fishing and actively engaging in outdoor adventure. This publication is for women, by women. View all posts by The WON →