PRÓIS® HUNTING AND FIELD APPAREL PARTNERS WITH FULL-THROTTLE COMMUNICATIONS FOR NEWLY DESIGNED WEBSITE
Próis® Hunting and Field Apparel of Gunnison, CO is proud to announce it has expanded its current Public Relations partnership with Full-Throttle Communications to include the design, development and launch of its newly enhanced website that will showcase its high-performance, hardcore hunting apparel for women. Not only will the new Próis site be flawlessly organized and packed with helpful images and information, it will take everything fans have come to expect from Próis and put it online, including easy-to-operate efficiency, an active community blog and social media communiqués, all while incorporating a dynamic and creative visual appeal.
"We're thrilled to work with Full-Throttle Communications in this new capacity and look forward to designing a website that will truly resonate with the female hunting community, and provide the latest technologies that will help pave the way Próis' future growth." said Kirstie Pike, president and CEO of Próis Hunting and Field Apparel.
Próis was created for women, by women who refuse to settle for downsized men's gear or upsized children's gear. Each garment is created with the most technologically advanced fabrics available and a host of advanced features to provide comfort, silence and durability. Their out-of-the-box thinking has resulted in amazing designs for serious hunters that have taken the industry by storm and raised the bar for women's outdoor apparel.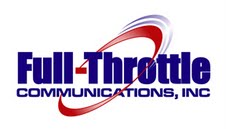 The crew at Full-Throttle Communications are masters at igniting passion and new brand energy by providing powerful marcom insights, hot creative solutions and impactful media outreach that moves brands and grows companies — a literal one-stop shop for all communications resources. For more information about Full-Throttle Communications and their marketing services, visit them online at www.fullthottlecommunications.com.
Keep Up With the World of Prois…
Facebook: http://www.facebook.com/group.php?gid=172754768618&ref=ts
Twitter: http://twitter.com/ProisHunting
LinkedIn: http://www.linkedin.com/groups?gid=2371157&trk=myg_ugrp_ovr
Prois Blog: http://www.proishunting.com/community

About The WON

The Women's Outdoor News, aka The WON, features news, reviews and stories about women who are shooting, hunting, fishing and actively engaging in outdoor adventure. This publication is for women, by women. View all posts by The WON →