Rebecca Jones wins 2nd USPSA National Open Title
Jones, who shoots for the StrikeForce Manufacturing shooting team and previously won the title in 2008, relied on consistency, recording just one missed target on her way to the podium.
"The big key for me this year was consistency," explained Jones. "It was a really tough match and it looked a little deceiving with a lot of close targets but those were mostly partial targets. I gave up just one penalty in the match."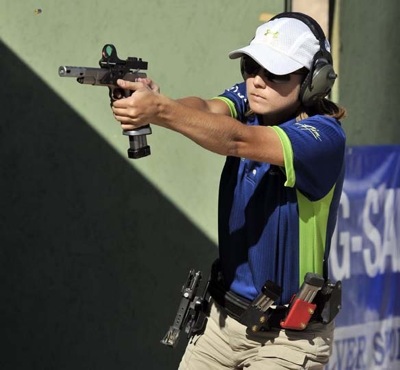 To win the title Jones had to fend off one of the strongest contingents of women shooters including the defending champion Megan Francisco of Gainesville, Va., Jessie Abbate of McDonough, Ga. who is considered by many to be one of the strongest female shooters, Lisa Munson of Marysville, Wash. who has won several USPSA national titles and Athena Lee of Katy, Texas, the 2007 Open division champion.
Going into the final day of competition Jones did not know where she stood against her competition. Squadded with Francisco, she was only aware of how she stood against the 2009 champ.
"I knew I was doing well and that I had to finish strong," said Jones. "I typically do well when there's a lot of accuracy involved and this match obviously had that. In the end I felt pretty strong and win or lose when I finished up I knew I'd shot the best I could."
Jones finished the match with a final score of 1328.9679 points which not only won her the women's title but placed her 38th overall and the top A class shooter, beating out several Master and a few Grand Master level shooters in the process.
Finishing in second and just over 48 points behind Jones was Team Leupold's Abbate with 1280.7503 points. Third place went to Team Limcat's Francisco with a final score of 1277.4224 points.
Rounding out the top five were Munson, shooting for Cameron's Custom Guns, with 1253.2984 to take fourth, and Lee with Team Limcat in fifth with 1241.3389 points.
The Smith & Wesson National Handgun Championships were held October 9 through 16 at the Desert Sportsman's Rifle & Pistol Club in Las Vegas, Nevada. Over 600 shooters put more than 250,000 rounds downrange in a quest for the coveted U.S. Practical Shooting Association national title in the Open, Limited-10, Limited, Production and Revolver divisions.
About The WON

The Women's Outdoor News, aka The WON, features news, reviews and stories about women who are shooting, hunting, fishing and actively engaging in outdoor adventure. This publication is for women, by women. View all posts by The WON →