Trick and Treats for a 'Crappie' Halloween
TULSA, Okla. (October 28, 2010) -A 20,000 sq. ft. warehouse is scary enough in the dark under any circumstances, and the one for Gene Larew Lures is located smack-dab on old Route 66 in Tulsa. With its interesting history the location offers every right to have "things that go bump in the night" as part of it, whether Halloween time or not.
Then factor in the hundreds of thousands of creature bodies on the shelves – bugs, snakes, worms, craws, frogs, lizards and more. Having a few dropped baits lying on the floor can make a nighttime walk-thru even more interesting. All can challenge the imagination, even if only soft plastic imitations.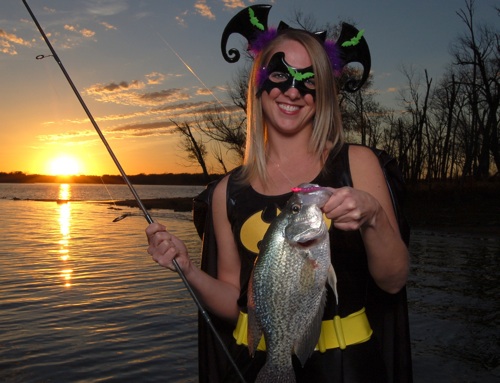 When it's time for lights out, eerie glows can be seen throughout the darkness. Some are coming from predictable locations on the shelves; some are more questionable. Even for those who know there are high numbers of glow baits in the facility, there's uneasiness when going through the confirmation process of determining what's shining where and whether it should be.
So far, all of the out-of-place apparitions have indeed been glow baits staged in various positions between manufacturing and packing. But you must consider it does add to the haunting effect of the situation to know that the names of the glow colors include Ghost, Pink Phantom, Ghastly Minnow and Twilight among them.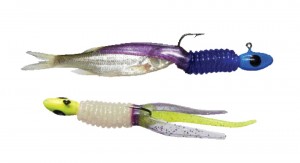 The Bobby Garland Mo' Glo series of glow-in-the-dark crappie baits have become highly popular with anglers across the country over the last couple of years. They are the result of Larew's George Toalson, truly a mad scientist by his own rights when it comes to experimenting with colors, doing just that with the special additive. He became intrigued during his Frankenstein-like experimentation to find out that the different glow colors of plastic would indeed "glow" in that hue.
"Glow baits have been around for years, but mostly in their usual off-white color in daylight. What I realized though is the pinks can glow pink, blues blue, greens green and so on," he explained. "That allowed us to come up with some great glow-color combinations that parallel well known crappie-catching colors. What has made them especially successful for us it is that the colors look good in daylight and they glow in the dark. It's the best of both worlds."
The Baby Shad and Slab Slay'Rs are two of the most popular models of Garland baits, but two brand new baits are garnering lots of attention these days – the Minnow Mind'R and Scent Wiggl'R. Whether they are paranormal remains to be seen, but at the very least they are certainly more than a "pair of normal" crappie baits.
The Minnow Mind'R is a 2 1/4-inch solid body bait with a split tail that is cupped underneath. It gets its name because it was designed for using this lure in combination with a minnow, serving to keep or "mind" the minnow in place while also providing color. The Minnow Mind'R is also effective as a standalone jig because of its amazing tail action.
The Scent Wiggl'R is a 2 1/2-inch lure with a minnow shape and scent cooked in during the manufacturing process. It has a segmented body so that the bait can be downsized by removing body parts. The bait's design also allows the use of any body part to become a scent nugget as an additive to any crappie jig. Of course, the Scent Wiggl'R can be fished just like a regular crappie jig, and it becomes the perfect minnow substitute when used in combination with the Minnow Mind'R.
Both the Minnow Mind'R and Scent Wiggl'R are available in Mo' Glo glow-in-the-dark colors. These and other Garland crappie baits really shine when rigged on a Mo' Glo Jighead. The glow-color heads, made by Crappie Pro exclusively for Garland, feature superb balance and a high-quality super sharp hook. The jigheads are available in 1/24, 1/16, 1/8 and 3/16 ounce sizes.
So what's it like to work in a place totally infested with creature baits and creepy crawlers? "There's always something interesting around here, that's for sure," said Diane Thornton, a Larew employee for 26 years. "Yes, I have been surprised by reaching up over my head into a box of baits and discover something moving. A live frog has been the biggest surprise … so far."
"No ghost sightings for me, and we haven't even had a black cat in here for a while. What we do have is a skunk that appears somewhat regularly in our aisles. Thankfully, no surprises from him yet, other than some of the pranksters who work here planting a stuffed skunk for us to uncover among the boxes on occasion. No, nothing supernatural to my knowledge around here, just the ghostly bodies of our Mo' Glo series, and we do have some fun with those," she added.
For more information on Gene Larew and Bobby Garland fishing lures, visit GeneLarew.com.
Contacts: Gary Dollahon or Crystal Myers
(866) 907-1605 toll free
About The WON

The Women's Outdoor News, aka The WON, features news, reviews and stories about women who are shooting, hunting, fishing and actively engaging in outdoor adventure. This publication is for women, by women. View all posts by The WON →