United Spirit of America High-Tech Hygiene Products take to the field with you
Boynton Beach, FL – United Spirit of America (USA-Spirit), a personal care product company, has launched a new line of unique hygiene and toiletry care products specifically designed to meet the needs and requirements of our warfighters. All products are made with 100% biodegradable content with superior formulation for cleansing and protecting skin and hair. All products are packaged in convenient TSA approved sizes.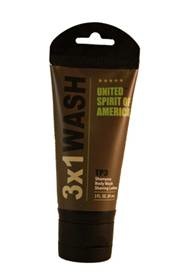 USA-Spirit product line-up includes the Basic Edition, an innovative product line designed for everyday use by Military professionals, outdoor enthusiasts and law enforcement personnel, providing top level protection and excellent hygiene, while allowing for greater mobility and functionality in convenient and easy to carry sizes. This line includes 3-in-1 products, such as the shampoo + body wash + shaving lather, anti-bacterial formulas that kill 99.9% of viruses and bacteria (including the H1N1 virus), deodorants and more.
The Outpost Edition products are military grade specifically designed for water restricted environments. They are aimed to provide high protection against the harmful effects of the sun, wind, biting insects, bacterial and fungal infections often suffered by people operating under adverse conditions and extreme environments throughout the world. Most products in this line are unscented.
-more-
Press Release Page 2
The D-Day Portable 24 Hour Personal Hygiene Kit is a highly functional pouch designed to put those necessities within reach. Products in this kit are packaged for the convenience of one-day travel. Lightweight and compact enough to fit in the side pocket of a BDU, Alice pack or overnight bag. For use in tactical and non-tactical environments and designed in a waterproof and floatable package, the D-Day kit is a must for any traveler – military, adventurer or business.
(Please change image to last D-Day picture)
The OK Personal Care Emergency Kit is a preparedness hygiene kit meant to provide essential products for up to 72 hours in the event of an emergency or disaster. It is packaged in a reflective, waterproof and floatable package.
(I will provide product picture next week, as soon as I receive the labels)The "Kit in a Click" option allows a customer to personalize their own care kit. Choose a Carabineer Clip or a Carabineer Clip with Bottle Holder and select any product from the Basic or Outpost lines to complete a customized personal care kit that is easy to attach to any Alice/ MOLLE webbing, packs or belts.
(Please use new basic or outpost kit in a click picture)
-more-
Press Release Page 3
USA-Spirit also provides OEM services to outfitters, retailers, manufacturers and training facilities as a unique way to enhance and extend brand awareness. For more information on USA-Spirit products contact 305-907-0765 or www.usa-spirit.com
About United Spirit of America:
United Spirit of America, headquartered in Florida, is a woman-minority owned corporation specializing in personal care products for the military, law enforcement, homeland security, outdoors and travel industries. All products are 100% made in the USA. www.usa-spirit.com
PR Contact:
Laura Burgess Marketing
252-288-5805
laura@lauraburgess.com
About The WON

The Women's Outdoor News, aka The WON, features news, reviews and stories about women who are shooting, hunting, fishing and actively engaging in outdoor adventure. This publication is for women, by women. View all posts by The WON →