PRÓIS® HUNTING AND FIELD APPAREL'S ULTRA SLEEVELESS SHIRT THE PERFECT FIT FOR A HUNTRESS ON-THE-GO
Since the company's inception in 2008, Próis® Hunting and Field Apparel – the industry leader in women's hunting apparel – has been making a name for itself by producing high-performance hunting gear for serious female hunters. And, there's no sign of slowing down now as the innovative company will be launching an onslaught of new outdoor wear for 2011, made with a vast array of unique design features to improve performance in the field – including the new Próis Ultra Sleeveless Shirt™.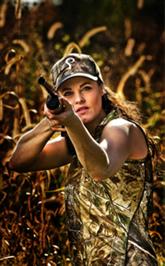 Próis' Ultra Sleeveless Shirt is lightweight and easy to wear as it's custom-tailored with a sporty design that allows mobility at every angle. This shirt is as cozy as it is versatile – a perfect fit for a spring turkey hunt, stalking plains game on a hot summer day or can even be worn as a base layer under a Próis vest or jacket when cooler weather rolls in.
The Próis Ultra Sleeveless Shirt has the look and feel of active sportswear, but it's chalked full of hunt-ready features that blend form and function to keep you cool, silent and mobile in the field. Its 100% polyester birds eye wicking fabric actively wicks moisture away from your skin through the fabric – helping you stay warm and dry while eliminating the distraction of uncomfortable perspiration. And, because it's important to see prey before they see you, hunters can blend seamlessly into their surroundings with the Próis Ultra Sleeveless Shirt in Realtree AP HD® or Advantage Max-1 HD®.
The Próis Ultra Sleeveless Shirt is ultra soft and snag resistant and comes in a wide range of sizes from XS through XL, to provide an ideal fit for hunters of any size. And, like all Próis gear, it's proudly manufactured in the U.S.A.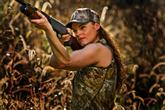 For more information about the new Próis Ultra Sleeveless Shirt or any other garments in Próis' innovative line of serious, high-performance huntwear for real women, contact: Próis Hunting and Field Apparel, 28001-B US Highway 50, Gunnison, CO 81230 ·
(970) 641-3355 · Or visit www.próishunting.com.
About The WON

The Women's Outdoor News, aka The WON, features news, reviews and stories about women who are shooting, hunting, fishing and actively engaging in outdoor adventure. This publication is for women, by women. View all posts by The WON →