Tim Flanigan: Reflections on shadows
Photographic images that include a shadow or a reflection of the subject offer the viewer a double "wow!" factor. We all realize that shadows are most pronounced when the sun is low in the sky, at dawn or dusk, and we should also realize that the same visual amplification affects reflections, but in the opposite direction.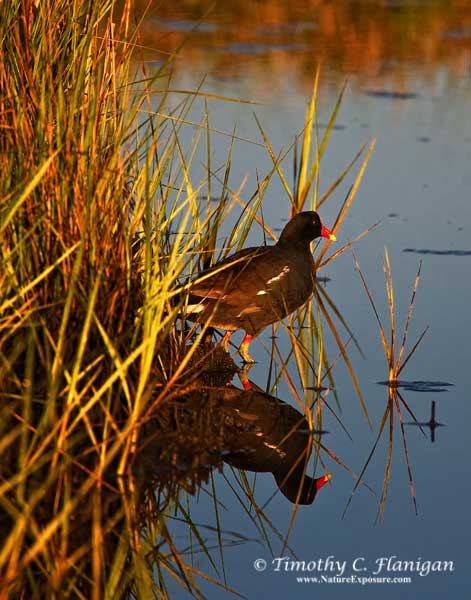 The colors of a bird reflected in the water at sunrise are typically intensely saturated. This is because the water is still dark and acts as a highly efficient mirror. This mirror effect lessens as the sun rises and illuminates the water. To capture these early morning double-exposure-like-images, the rising sun must be to the rear of the photographer and of course the opposite is true at sunset.
Capturing vivid reflections of wildlife requires planning, good timing and a bit of luck, but we can use the power of highly directional sunlight to impart a double whammy to hero shots by having the angler hold the trophy fish in front of his body to paint a fish shadow on his clothing. (TIP: Have him or her look at the fish.) Antler shadows work the same magic.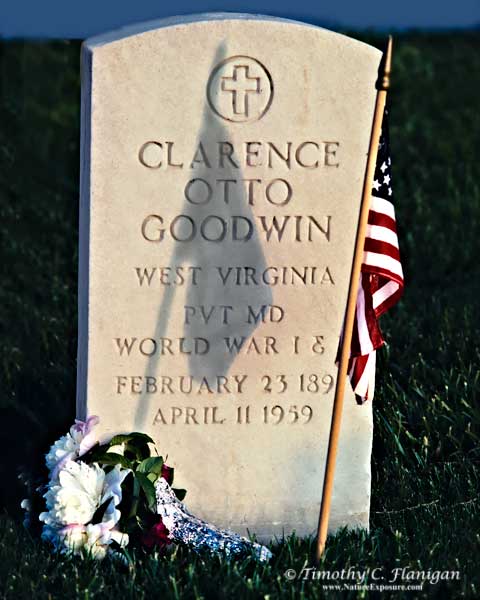 In the memorial stone image, the flag shadow adds an unspoken, but immediately recognized message of commitment and service. Remember that every life casts a shadow and that our freedoms exist in the shadows of those who served our country with honor. Thank a vet on Veterans Day and remember them everyday.
Tim is the Southcentral Field Editor for the Pennsylvania Outdoor Times, a contributing photographer to The Upland Almanac, The Ruffed Grouse Society, Buckmasters and Buckmasters On-Line. He is published inWildfowl Carving magazine, North American Whitetail magazine, Westsylvania magazine and Game and Fish Publications. His photography can also be seen on the covers of Pennsylvania Game News magazine and its annual calendar.
He enjoys membership in the Outdoor Writers Association of America (OWAA), the Southeastern Outdoor Press Association (SEOPA), the North American Nature Photography Association, the Professional Outdoor Media Association (POMA) and the National Association of Photoshop Professionals. He is also a Past-President and member of both the Pennsylvania Outdoor Writers Association and the Mason/Dixon Outdoor Writers Association. Membership he also enjoys includes the Bedford County Arts Council, Allegany Area Art Alliance and the Allegany Arts Council.
Tim, and his wife Debbie operate Nature Exposure, an outdoor writing and photography marketing business in Bedford, Pennsylvania, that specializes in supplying content and photography to outdoor publications. Nature Exposure also showcases limited editions of Tim's award-winning fine art photography, as both framed giclée prints on canvas, as well as premium papers along with his notecard collection. His work is exhibited and sold at various art galleries, art shows and festivals. For more information, please visit their website, Nature Exposure. E-mail Tim at tim-natureexposure@comcast.net, or call 814-623-7865.
About Tim Flanigan

Tim Flanigan has been producing top-quality photographic images for the print media for more than 30 years.Tim, and his wife, Debbie, operate Nature Exposure, an outdoor writing and photography marketing business in Bedford, Penn. View all posts by Tim Flanigan →