Gear Court: Range bag vs. backpack … you be the judge

Many attended the SHOT Show this past January in Las Vegas. It was my first trip and I was overwhelmed by the amount of booths and people in attendance. The vendors that were there did not disappoint either. There were thousands of products available for viewing. One of these products was the I-SHOT Ghurka Range Backpack. One of the biggest struggles I have with my current range bag is the single shoulder strap and how much weight it puts on my shoulder when I load it up with guns and gear. The Ghurka distributes this weight evenly because it's a backpack! I stumbled across it at the show and fell in love with it so much that I played with for almost an hour! It was fully equipped with range gear so I was able see how it would perform on the range.
Designed to accommodate two handguns, the main compartment of the Ghurka features a removable sleeve that stores these two handguns, it's velcroed in and allows you to store other accessories like eyes, ears, belt, holster, etcetera. The second pouch of the bag includes storage for seven slots for magazines, timer, cleaning supplies or other odds and ends.
On the back side of the bag is a fully padded, zippered compartment that includes a hydration system. The hydration system can be removed and this padded storage area can be used to hold a laptop.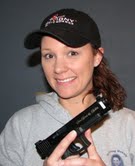 My favorite part of this backpack is the bottom. This is where you would store your boxes of ammunition. Inside the bottom, a plastic "box" is sewn into the bag so that no matter how you set the bag down, it won't fall over! Plus the rubber feet on the bottom keep it protected from soil and liquids. The compartment is large enough to carry several boxes of factory 9mm ammunition. The backpack is made of cordura nylon with mil-spec webbing.
If you're like me, you keep almost everything you're going to need in your range bag, so the Ghurka features reinforced shoulder straps to help prevent the webbing from busting out. The Ghurka won't be available until the end of March, but will come in blue and black. Other colors will be available at a later date. Visit http://www.ishot-inc.com/ for more information.
Read Beth's most excellent blog here.
[nggallery id=30]
About The WON

The Women's Outdoor News, aka The WON, features news, reviews and stories about women who are shooting, hunting, fishing and actively engaging in outdoor adventure. This publication is for women, by women. View all posts by The WON →