Bad Boy Buggies® Introduces Work Series
(AUGUSTA, GA) —Bad Boy Buggies presents its new Work Series of bedded utility vehicles, ideal for handling land- and game-management tasks on large properties.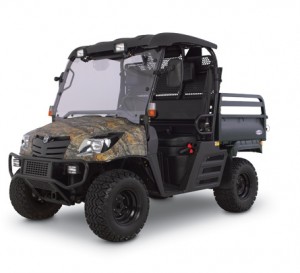 Landowners, conservationists and game managers can choose from three different Work Series vehicles in a variety of configurations to meet the specific needs of their operation. Depending on the model, the Work Series offers vehicles with electric, gas or diesel powertrains, and two-wheel-drive or four-wheel-drive capabilities, at varying maximum payload capacities.
"With the introduction of the Work Series, Bad Boy Buggies provides hunters and outdoorsmen with a complete portfolio of vehicle solutions for both in-season and off-season use," said Mike Parkhurst, vice president of sales for Bad Boy Buggies. "Just as our traditional 4×4 electric vehicle is purpose-built for stalking trophy game, the Work Series is perfect for managing property in the off-season to ensure conditions are ideal when game are in season."
The Work Series includes the following three models:
The Bad Boy Buggies XD is the largest vehicle in the line, with a total load capacity of 1,600 pounds and a 22 hp, 1,007cc three-cylinder diesel engine. The XD features user-selectable four-wheel-drive, four-wheel independent suspension, and four-wheel hydraulic disc brakes, and a manually selectable locking rear differential that can be engaged in two-wheel-drive or four-wheel-drive operation, for maximum control and traction in loose terrain.
The vehicle's 14.4-cubic-foot cargo bed can hold up to 1,100 pounds, and the vehicle can tow up to 1,300 pounds from its rear hitch receiver. A rollover protection system (ROPS) protects driver and passengers, and standard features such as a 12-volt accessory outlet and glovebox make the ride more comfortable and productive.
The 1600XD also can be outfitted with numerous aftermarket options and accessories, including a front hitch receiver, vinyl enclosure, and a hydraulic power source to drive augers, plows, log-splitters, post drivers and other implements needed for chores.
The Bad Boy Buggies HD is a versatile two-wheel-drive hauler, available with a choice of a 13 hp, 401cc, low-emissions Kawasaki® gas-powered engine or a silent, zero-emissions 48-volt electric drivetrain. A standard 9.6-cubic-foot cargo bed and rear hitch receiver enable the HD to handle hauling and towing tasks with ease, and generous ground clearance makes the HD surefooted on difficult terrain. To meet the specific needs of any operation, the HD can be outfitted with options such as a 14.9-cubic-foot aluminum cargo bed, an electric power cargo-bed dump, and a front hitch receiver.
The Bad Boy Buggies LD is a dependable, two-wheel-drive runabout vehicle for smaller tasks and chores on any property. The LD is available with either a 13 hp, 401cc, low-emissions Kawasaki® gas-powered engine or a zero-emissions, highly efficient 48-volt electric drivetrain. A standard 5.9-cubic-foot cargo bed, bench seating for two, and total capacity of 800 pounds make the LD an ideal choice for handling day-to-day tasks and transportation needs.
The Work Series is available now at your local Bad Boy Buggies authorized dealer. For more information about the Work Series and the complete Bad Boy Buggies vehicle line, visit www.badboybuggies.com or join Bad Boy Buggies' Facebook community at www.facebook.com/badboybuggies.
About Bad Boy Buggies
Bad Boy Buggies is a leader in utility vehicles for hunting and outdoor lifestyles. Bad Boy Buggies pioneered the category of electrically powered 4×4 vehicles, ideal for hunting and outdoor recreation due to their silent, odorless operation and environmentally friendly, emissions-free drivetrains. Today, the Bad Boy Buggies product line ranges from four-wheel-drive electric hunting machines such as the XTO, a fully electric, 4WD vehicle with seating for four, to the Work Series of diesel, gas- and electric-powered utility vehicles, including the Bad Boy Buggies XD, a versatile 4WD, diesel-powered utility vehicle with a total capacity of 1,600 pounds.
BB Buggies Inc. is an operating unit of Textron Inc.'s E-Z-GO business unit.
About The WON

The Women's Outdoor News, aka The WON, features news, reviews and stories about women who are shooting, hunting, fishing and actively engaging in outdoor adventure. This publication is for women, by women. View all posts by The WON →