Mossy Oak camo finishes now available on certain Leupold scopes
BEAVERTON, Ore. — Utilizing an exclusive camouflage application technology for superior durability, Leupold® now offers the popular Mossy Oak® Break-Up® and Mossy Oak Treestand® hunting patterns on VX®-I and UltimateSlam® 3-9x40mm scope models.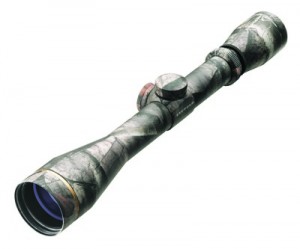 Leupold's advanced anodization process bonds the camo pattern directly to the scope body, ensuring an extremely tough and long-lasting finish, without adding thickness to the maintube diameter. The VX-I and UltimateSlam scopes are the first to feature this process.
One of the most versatile camo patterns, Mossy Oak Break-Up is effective in various hunting environments, from flooded timber to deep woods. Mossy Oak Treestand is designed specifically for whitetail deer hunters who shoot from an elevated position, providing concealment among the bare limbs of a tree in late fall.
"With these field-proven camo patterns, our VX-I and UltimateSlam scopes are a great choice for deer hunters concerned with concealment, whether they use a rifle, muzzleloader or shotgun," commented Pat Mundy, communications manager for Leupold & Stevens, Inc. "Our unique anodization process, combined with the ruggedness typical of all our scopes, will deliver years of reliable performance, season after season."
The VX-I camo riflescopes have the time-tested Duplex® reticle, micro-friction dials marked in ¼-MOA increments for easy windage and elevation adjustments, and Leupold's classic lockable eyepiece for a secure focus. UltimateSlam scopes are designed to enhance accuracy with muzzleloaders and shotguns. Each UltimateSlam pairs Leupold's exclusive Sabot Ballistics Reticle (SA.B.R.®) with an innovative power selector ring that allows hunters to synchronize their gun with their preferred load.
In addition, VX-I and UltimateSlam scopes feature Leupold's Standard Multicoat lens system for a bright, clear image. Like all Golden Ring® scopes, they are waterproof and fog proof, and tested under extreme conditions to ensure ruggedness and durability.
– more –
VX-I and UltimateSlam scopes are backed by Leupold's Full Lifetime Guarantee. For more information, visit a local dealer, go to www.leupold.com or call 1-800-LEUPOLD.
Leupold & Stevens, Inc., the preeminent American-owned and -operated optics company, employs more than 700 people in its state-of-the-art facility near Beaverton, Ore., where rugged, dependable, high-performance Golden Ring® optics, Mark 4® riflescopes and Redfield® Revolution™ riflescopes are designed, machined and assembled. Leupold is a fifth-generation, family owned company whose products are sold worldwide to hunters, competitive shooters, American military warfighters, law enforcement personnel and wildlife observers. The product line includes rifle, handgun and spotting scopes; binoculars; rangefinders; trail cameras; flashlights; mounting systems; and optical tools and accessories.
###
Leupold & Stevens, Inc. is a Charter Supporter of the Hunting and Shooting Sports Heritage Foundation.
Leupold & Stevens, Inc., P.O. Box 688, Beaverton, OR 97075-0688, U.S.A.
Phone: (800) LEUPOLD or (503) 526-1400 • Fax: (503) 352-7621 • www.leupold.com
About The WON

The Women's Outdoor News, aka The WON, features news, reviews and stories about women who are shooting, hunting, fishing and actively engaging in outdoor adventure. This publication is for women, by women. View all posts by The WON →