Guru Huntress: Osceola Hunt turned mini-vakay

We just returned from another great Osceola turkey hunt in Central Florida. Joining us on this trip were our friends Greg and Billinda Neyman. Most of you will remember Billinda Neyman as the winner of the third "Where is the Guru Huntress?" contest. What a great friendship resulted from that connection. We were booked to hunt with Woodland Guides Outdoors, in Crystal River, Florida; what started out a turkey hunt ended up a beach vacation.
We drove all night arriving in Central Florida at 3:15 a.m. with the alarm set for 4:45 a.m. This, of course, is not unusual for some of the hunting trips Richard and I do –"hunt now, rest later" seems to be our motto.
Our group headed to the woods at 5:30 a.m. with plenty of time to get set up for turkey hunting. Richard and I were sitting in a blind that was set up under a big oak tree. Greg and Billinda were set up in a blind up the field from us. We were so fortunate to have such an outstanding hunt. We harvested all three birds in the first hour … a TRIPLE!
Richard filmed my entire "short" hunt and I took bits and pieces of the footage to put together a brief video for YouTube to share with my readers and friends. The long version will be forthcoming in a future project. You can also read about our entire trip and see photos at my blog. Feel free to leave comments; this was my first attempt at editing.
A heartfelt thank you to Dave Mehlenbacher for such a great hunt and to Richard, Greg and Billinda for making it so special.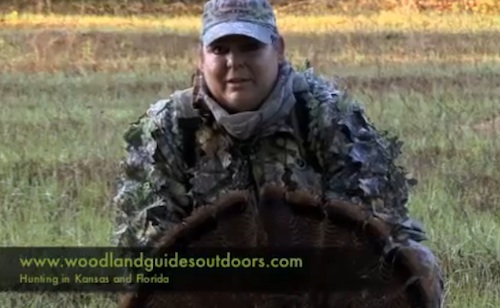 About The WON

The Women's Outdoor News, aka The WON, features news, reviews and stories about women who are shooting, hunting, fishing and actively engaging in outdoor adventure. This publication is for women, by women. View all posts by The WON →