JulieGolob.com launches with new look and social media integration
GLASGOW, Mont. – Avid outdoorswoman and world-class competition shooter Julie Golob announced the launch of her redesigned and enhanced website, JulieGolob.com. Packed with content and featuring a user-friendly structure, JulieGolob.com gives shooting sports fans and fellow shooters and hunters up-to-date news, tips and information from one of the sport's most popular, and most active, personalities.
"Over my 20-year career in shooting competitions I've witnessed tremendous growth in the popularity of the sport. With unprecedented communication tools like blogs, Facebook and Twitter, that popularity is only growing faster. I launched JulieGolob.com to further promote shooting and hunting," explained Golob.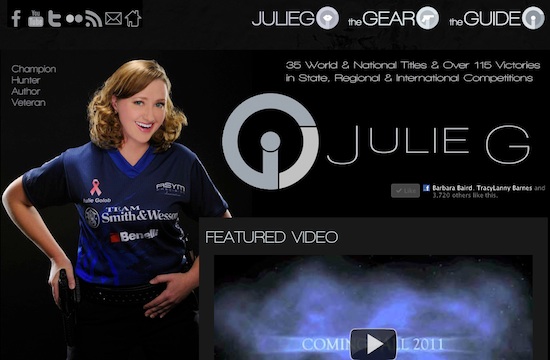 The JulieGolob.com site is set up with information found in three easy-to-navigate sections and features fully integrated social media tools. Visitors can now easily connect with Julie's Twitter account, Facebook page, YouTube channel and Flickr photostream.
One aspect of JulieGolob.com that Julie is particularly proud of is the information available to new shooters. With sections dedicated to her equipment and sponsors, as well as one devoted to her upcoming book, SHOOT! A Guide to Shooting and Competition, Julie hopes that those new to the shooting sports will find the support they need to get started.
"I grew up in the shooting sports. Like so many others who were introduced by their dads, I learned from my father and avid competitor, Peter Goloski. Not everybody grows up with that kind of exposure in the home, and I hope that my website helps to spread the word about all the fun shooting sports have to offer," stated Golob.
For more information about Julie Golob visit her newly redesigned website JulieGolob.com. Watch Julie in action on JulieG.TV and YouTube. Read about Julie's adventures on her blog and then follow @JulieG1 on twitter and like JulieGolob1 on Facebook.
About Julie Golob:
Julie Golob is one of the most accomplished professional shooters in the world, captain of Smith & Wesson's highly successful shooting team and cofounder of the popular WomenofUSPSA.com blog, an online resource that celebrates women in the action shooting sports. During her eight years in the U.S. Army Marksmanship Unit (USAMU), she was named both U.S. Army Female Athlete of the Year and USAMU Athlete of the Year. She has won a total of 35 ladies action shooting world and national titles in a variety of shooting disciplines, including IPSC, IDPA, ICORE, NRA, SCSA and USPSA—where she is also the only woman to hold national titles in five of six divisions within the sport. When she's not competing Julie lives with her husband and three-year-old daughter in Montana, where the avid outdoorswoman sometimes finds time to enjoy hunting, photography and cooking wild game—all of which she shares with readers on her blog.
Media Contact:
About The WON

The Women's Outdoor News, aka The WON, features news, reviews and stories about women who are shooting, hunting, fishing and actively engaging in outdoor adventure. This publication is for women, by women. View all posts by The WON →