Guru Huntress: ALPS Outdoorz Turkey Chair MC wins favorable approval on 'blind date'
As my turkey hunting came to a close, I am thankful for the hours I was able to be in the woods experiencing some unforgettable sunrises; but also intrigued by the interactions between human and that magnificent bird that mesmerizes me to the point of obsession every spring.
Each year, new gizmos, gadgets, and gear hit the market in hopes of making the turkey hunters' experience in the woods more successful. Although many of those items actually are improvements of like items that came before it, some just can't be replaced once you have mastered using that item and/or have hunted faithfully with certain gear.
I have the perfect stool for turkey hunting; quick and easy to set up/take down, quiet, and convenient to carry hands-free on the run while hot on a bird. However, this style stool is not ideal for sitting in ground blinds. My turkey stool is backless and is rather small in the seat surface area.
I like to stay low to the ground when turkey hunting and even when sitting in a ground blind. It not only keeps your hand movement out of sight, allowing you to work calls, it makes it easier to shift your seating for a better shot and to make that shot at the perfect angle on the bird you are pursuing.
After trying several stools and chairs with backs on them, I found some to be cumbersome, some to be uncomfortable, and one to be absolutely too much trouble to put together every time you wanted to use it.
I knew there had to be a chair with a back that would be comfortable, roomy, and easy to set up. Finding it at the National Wild Turkey Federation National Convention came as no surprise, since that event, after all, was where all the newest turkey gear is unveiled each year.
I found the NWTF Approved ALPS Turkey Chair MC. This chair was definitely roomy, and the powder-coated steel frame was easy to set up, similar to any folding lawn chair. It also folds flat for transportation and storage. A portion of the chair seat and lower back is made of a mesh material, allowing for ventilation. The chair features a padded shoulder strap for easy carrying, with the option of an additional accessory shoulder strap to carry the chair similar to a backpack.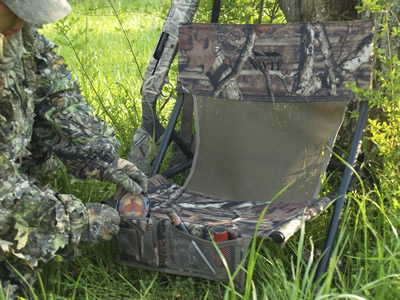 The chair has a Lifetime Guarantee and is available in two camouflage patterns: Realtree AP HD and Mossy Oak Break-Up Infinity. The ALPS Turkey Chair MC, weighs only six pounds, has a 300-pound capacity and measures 23" wide by 12" deep by 21" high. A unique added feature is an added flap that includes a call organizer pocket and a zippered pouch with a striker holder, ideal for holding a slate call or any other item.
I found the ALPS Turkey Chair MC to be ideal as a blind chair, or to use when a hunter is going to be sitting in a location for an extended length of time and needs a backrest. Although I would not recommend this chair for situations where a hunter will stay on the move; ALPS does have a smaller version of this chair available that would serve that hunting style well.
The ALPS Outdoorz Turkey Chair MC, as well as many other ALPS quality items, can be seen at www.alpsoutdoorz.com, or you can call 1-800-344-2577 for more information.
To follow along with the Guru Huntress' adventures and see how these products work for her in the field, see her blog: http://njadams1.wordpress.com/
Endorsement Disclosure: Per the guidelines of the Federal Trade Commission, this product review is an endorsement and the writer may have been compensated by "in-kind" payment to review the product.
About The WON

The Women's Outdoor News, aka The WON, features news, reviews and stories about women who are shooting, hunting, fishing and actively engaging in outdoor adventure. This publication is for women, by women. View all posts by The WON →