Jessie Harrison claims three titles at Steel Challenge
Piru, CA — Professional shooter Jessie Harrison (formerly Jessie Abbate) won the Lady's Steel Master title at the World Speed Shooting Championships in Piru, California this past weekend.
Harrison won the Lady's Open Rimfire, the Lady's Limited, and the Lady's Open on her way to the Steel Master title. The Steel Master title is calculated using an aggregate of the Rimfire, Limited, and Open events.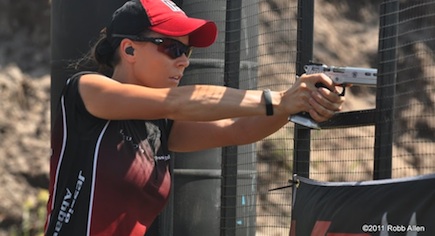 Shooting an exacting match, from the first day to the last, Harrison took charge from the start with a win at the Rimfire match – in a total time of 76.70. The next day, Harrison's total time of 109.68 won the Limited match. She finished the "hat trick" with a win and a total time of 95.60 in the Open Match. By virtue of her total aggregate time, Harrison defended her 2010 Lady Steel Master title.
This was the second time, in the history of the event, that a competitor won all three divisions (Rimfire, Limited, and Open) at the Steel Challenge. Harrison won all three events in 2009 and, in 2011, did the same. Harrison also broke the existing record (Lady's) for "Smoke and Hope" – giving her six of the eight stage records at the match. Harrison lowered the record time, on Smoke and Hope, from 9.56 to 9.38. And, Harrison lowered her best overall time at the Rimfire event and set a new record.
After a year filled with many personal changes in her life, Harrison reflected on the 2011 shooting season and her future.
"This 2011 match was a real fun experience for me, "said Harrison. "I remember shooting here in 2010. Although I shot well, I was not having fun. A year later, I am having fun – and I am being successful. They say that if you love your work, you'll never work a day in your life. And I love my work."
Harrison's 2011 shooting year has been spectacular with titles at the Steel Nationals, Bianchi Cup, the ProAm, and at the Steel Challenge.
The 2011 Steel Challenge has been held in Piru, California since the inception of the match. However, the 2011 match was the end of an era. Next year, the match is going to Florida. Without much fanfare, the Steel Challenge, also known as the World Speed Shooting Championships, ended its run at the Southern California site.
Harrison wraps up the season next month with several major championships. First, she heads to Las Vegas for the USPSA Nationals. At the conclusion of that match, Harrison heads to the island of Rhodes (the island in Greece) in order to compete at IPSC World Shoot XVI.
Harrison's career shooting resume includes (unless noted, all championships are Women's titles) World Speed Shooting Championships (Steel Challenge) in 2007, 2008 (Ladies Limited only), 2009 and Limited and Steel Master titles in 2010. USPSA Production National Championships in 2007, USPSA Limited and Limited 10 Championships in 2008, USPSA Production and Limited Championships in 2009, and USPSA Limited Championship in 2011; a Pro-Am Championship in both Limited and Open in 2009 and 2010, a Pro-Am Championship in Open in 2011; Steel Challenge National titles in Limited, .22 Open and Open in 2007, Steel Challenge Nationals Limited Champion and Lady Steel Master in 2008, Steel Challenge National s .22 Open Champion, Limited, Open and Steel Master in 2009 and 2010, and Limited, Open and Steel Master in 2011; National Action Pistol Championship (Bianchi Cup) in 2010 and 2011; USPSA MultiGun Tactical Division titles in 2007 and 2008; Western 3 Gun World Cup titles in 2004, 2005, 2006, 2007, and 2008; and numerous USPSA Area championships and titles in Single Action Shooting – and another Steel Challenge Rimfire, Limited, Open, and Lady Steel Master title in 2011.
JESSIE HARRISON'S EQUIPMENT LIST:
Harrison's optical sight is from LEUPOLD – optics that are renowned for their unchallenged ruggedness, absolute waterproof integrity, and their vastly superior optical quality
Harrison's Bullets are from HORNADY – maker of the finest bullets available
Harrison's practice targets are from GT TARGETS – where you will not find a higher quality or more reasonably priced stand anywhere. If it breaks, GT will fix or replace it FREE.
Harrison's ammunition is from ATLANTA ARMS AND AMMO – maker of dependable, high quality ammunition that you can count on
Jessie Harrison is represented by Russ Stott of August Sports – a Maryland/Washington, D.C. based sports representation agency that specializes in representing athletes from the outdoor sports. For information about Jessie Abbate, please contact the offices of August Sports.
About The WON

The Women's Outdoor News, aka The WON, features news, reviews and stories about women who are shooting, hunting, fishing and actively engaging in outdoor adventure. This publication is for women, by women. View all posts by The WON →