SkullHooker: The perfect mount for small … to medium size trophies
Whether it is the economy, or simply a maturing populace looking for a new and better way to honor and display their trophies, the fact that hunters are turning to European mounts over full mounts is undeniable. Leading this revolution is the SkullHooker™ — an innovative, yet stylish mounting system, at a price that won't put a strain on your hunting budget.
The simple mention of antelope conjures images of the open plains of Wyoming, Utah, Texas and New Mexico. However, Antelope more correctly refers to a whole host of even-toed ungulate species, which roam exotic ranges in Africa and Asia as well as North America and the SkullHooker Little Hooker is perfect for all of them.
The SkullHooker Little Hooker was designed to display small to medium-sized trophies. That means SkullHooker's Little Hooker will give a professional look to all antelope species, but is also perfect for all deer species, cougar, alligator, black bears, goats and other exotic
small game.
The SkullHooker is a professionally finished European skull mounting system that is fully adjustable. Long gone are the days of going to a taxidermist and picking the perspective your trophy will be displayed for eternity. With the SkullHooker, you can change for a right-,
center-, or left-facing perspective by simply reaching up and moving it. You can also change the pitch to match the height ensuring your trophy will always have a natural pose facing the exact point you choose.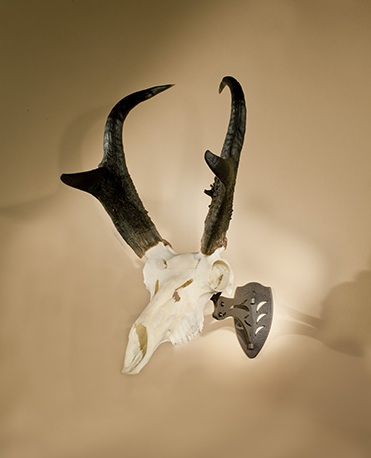 SkullHooker brackets are powder coated in your choice of one of two colors (Robust Brown or Graphite Black). Due to the innovative design, the hook fits naturally into the back of the skull without requiring any drilling or glue and eliminates the possibility of damaging your trophy during the mounting process.
SkullHooker also offers the Big Hooker, which easily accommodates the largest of trophies including elk, caribou, brown bear, domestic steer and other large game from around the globe including eland, kudu and red stag.
For more information on the SkullHooker's refined approach to displaying your trophy European mounts, contact: SkullHooker at P.O. Box 257, Klamath Falls, OR 97601 •
Phone: 541.887.8622 • or visit us online at
Editor's Note: For hi-res images and releases, please visit our online Press Room at www.full-throttlecommunications.com.
About The WON

The Women's Outdoor News, aka The WON, features news, reviews and stories about women who are shooting, hunting, fishing and actively engaging in outdoor adventure. This publication is for women, by women. View all posts by The WON →