The Happy Camper: Either I gain weight or lose stuff
To prepare for a backpacking or camping trip requires that I lay out every single piece of gear I own, strewn all across the garage floor. I have to see it all to choose what I'll need. Camping gear is all about choices. This latest trip to Arkansas was no different. Will I take the Jetboil™ or the Esbit? Maybe both, so I have a back-up? Nope, just the Jetboil and some matches, thank you.
Will I take the light sleeping bag and freeze to death, or the heavy one that keeps me warm but takes up too much space and spills out of the bag like a polyester lava flow? If you grew up on a farm, you would know what I mean when I say "prolapsed uterus." It's not a pretty sight. There's only so much room in my pack, so lightweight one it is, even if I get cold.
My most recent adventure was a solo trip, so the food choices were easy. No one to please but me, which meant K bars and chai tea for breakfast, spaghetti for lunch and spaghetti for dinner. For all five days. With extra spaghetti for snacks. I firmly believe that freeze-dried spaghetti is the super food of backpacking.
Clothing choices are pretty easy- rain gear, one change of wool base layer to offset the lack of deodorant, a warm layer. It's a solo trip, who needs deodorant? Socks. Done.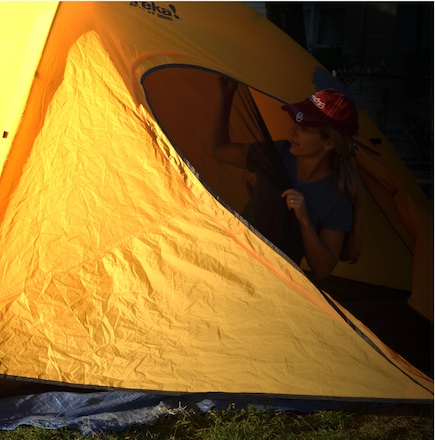 Tent. Will I take the ripped-up, duct-taped Eureka two man, or… or … or … The choices are a little limited. Santa, I want a new Kelty Mesa for Christmas. Santa? Santa! Turn off the football game and pay attention!! I need a new tent!
Hiking shoes or boots? Maybe if wear the new boots – the unbroken-in, still smells-like-new- leather boots – the raw blisters will take my mind off the bug bites, thorn scratches and poison ivy. Naw. The old comfy Merrells it is.
Headlamp. Check.
Trail map. Check.
First-aid kit. Check.
Water bottles and purifier. Check.
Sunscreen, bug spray, hat. Check, check, check.
Compass. Works great as a coaster. Might make a nice belt buckle. Declination is such an ugly word. Leave compass at home.
Now, cram all that gear into my Osprey pack. The folks over at my local Backwoods store routinely give me a hard time for hauling more than 25 pounds. As in "Don't carry more than 25 percent of your bodyweight, Stupid." Well, that's a problem, you see. For me to carry everything I need, (or think I need) my pack is going to weigh 25-30 pounds. Every time. Which is 25 to 30 percent of my body weight.
I could ditch the tent and just use a tarp, but I have a dislike of slithery things sleeping with me. My sleeping bag only weighs a pound-and-half. It stays. The spaghetti definitely stays. Throw out the first aid kit and one water bottle. Saves me 13 ounces in weight.
Maybe I could take less water, but I don't want to depend just on finding water sources right now, when we've had eight months of drought. Put water bottle back in. Add back in 4 ounces.
The bug spray doesn't keep me from being eaten alive. Toss it. That saved me 6 ounces.
The other solution is for me to gain more weight, so that my pack would be a smaller percentage of my body weight. That's my current strategy. Three Gigi's cupcakes a day to pack on some heft. Give that pack hip belt someplace solid to rest.
All right, weight problem solved. Buckle on that pack, girl, we're off to the cupcake shop! More choices, you say? No problem, gimme one of each!
You can follow Traci's pursuit of perfect pack weight, cupcakes and other adventures at The Adventures of Mother Nature http://momonvacation.blogspot.com
About Traci Schauf

Traci Schauf ia a blogger, a blonde, a bookphile and outdoor obsessed. She contributes "The Happy Camper" to The WON. She also hosts her own daily blogs about her family and outdoor life. View all posts by Traci Schauf →