Bad Boy Buggies® introduces Ambush™ dual-powertrain vehicle
AUGUSTA, GA — Outdoorsmen no longer have to choose between the silent, odorless operation of an electric vehicle or the extended range offered by a gas powertrain. With the new Ambush™ utility vehicle from Bad Boy Buggies, they can do it all.
The Ambush features both a 48-volt electric drivetrain and a 16 hp, 480cc V-Twin gas engine, either of which can operate the vehicle independently in two-wheel-drive operation, or which can be operated in tandem for four-wheel-drive power. With a range of up to 100 miles, the Ambush offers the avid hunter a solution for longer hunting excursions where both extended range and low-noise, odorless operation are necessary for a successful hunt.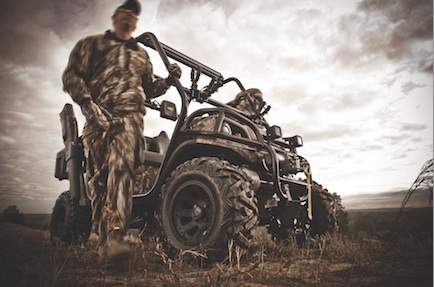 "We are thrilled to announce the addition of the Ambush to the Bad Boy Buggies line of products," said Eric Bondy, vice president of the consumer value stream for Bad Boy Buggies. "This revolutionary vehicle brings pioneering technology into the outdoor industry, and eliminates the tradeoff hunters previously had to make between an electric vehicle's silent operation and a gas-powered machine's extensive range."
"The Ambush is the ultimate vehicle for hunters seeking range and power combined with low-noise, zero-emissions operation required to sneak up on a trophy kill."
The Ambush will be available in both a four-passenger model with a rear-facing back seat, and a two-passenger model with a 9.6-cubic-foot cargo bed. The vehicle provides three separate operating modes: rear-wheel-drive 2WD gas, front-wheel-drive 2WD electric, and 4WD with both gas and electric powertrains engaged. Operators can shift from gas to electric mode "on the fly" using a simple control integrated into the vehicle's keyswitch.
An onboard computer coordinates the operation of the Ambush's dual powertrains, ensuring that the gas and electric systems work together for maximum power and efficiency and making control easy for the driver.
Other standard features include:
a manually locking rear differential, which can be engaged in 2WD gas or 4WD operation, to help navigate the toughest terrain;
a momentary boost switch that offers immediate 4WD operation at the push of a button to power through the trail's deepest ruts and eddies;
four-wheel hydraulic brakes with a regenerative braking feature that recharges the vehicle's 48-volt electric drivetrain as the vehicle is in operation;
independent A-arm front suspension with MacPherson struts to absorb the bumps and jolts of the journey;
front bucket seats to get driver and passenger to the blind in comfort;
a 2-inch rear hitch receiver to tow implements and equipment ;
headlights and taillights to light the way at dawn and dusk, and a front brush guard to protect the vehicle's finish in dense brush and on overgrown paths;
a blackout switch that immediately cuts power to vehicle lighting to allow for stealthy approach;
numerous safety features including a rollover protection system (ROPS), hand-actuated parking brake and optional three-point seatbelts;
25-inch trail tires to provide surefooted traction on tough, muddy climbs.
To meet the specific needs or style of any owner, the Ambush can be customized with a wide variety of options and accessories including a winch, optional power bed lift, gun and bow racks, a dry-storage compartment, ammo box, a weather enclosure, and a heater/defroster.
The Ambush will be available through Bad Boy Buggies dealers in summer 2012. The vehicle will be displayed at the Bad Boy Buggies exhibit (Booth #1444) at the 2012 NSSF SHOT Show, Jan. 17-19 at the Sands Expo and Convention Center in Las Vegas. For more information about the vehicle or to locate your nearest authorized Bad Boy Buggies dealer, visit http://www.badboybuggies.com, and join Bad Boy Buggies' Facebook community at www.facebook.com/badboybuggies.
About Bad Boy Buggies
Bad Boy Buggies is a leader in utility vehicles for hunting and outdoor lifestyles. Bad Boy Buggies pioneered the category of electrically powered 4×4 vehicles, ideal for hunting and outdoor recreation due to their silent, odorless operation and environmentally friendly, emissions-free drivetrains. Today, the Bad Boy Buggies product line ranges from four-wheel-drive electric hunting machines such as the XTO, a fully electric, 4WD vehicle with seating for four, to the Work Series of diesel, gas- and electric-powered utility vehicles, including the Bad Boy Buggies XD, a versatile 4WD, diesel-powered utility vehicle with a total capacity of 1,600 pounds.
About Textron Inc.
Textron Inc. is a multi-industry company that leverages its global network of aircraft, defense, industrial and finance businesses to provide customers with innovative solutions and services. Textron in known around the world for its powerful brands such as Bell Helicopter, Cessna Aircraft Company, Jacobsen, Kautex, Lycoming, E-Z-GO, Greenlee, and Textron Systems. More information is available at www.textron.com.
About The WON

The Women's Outdoor News, aka The WON, features news, reviews and stories about women who are shooting, hunting, fishing and actively engaging in outdoor adventure. This publication is for women, by women. View all posts by The WON →