ACCOKEEK, MD (March 29, 2012)
–Team Benelli 3-Gun Team member, Taran Butler enjoyed an impressive win this weekend at the nation's annual Superstition Mountain Mystery 3-Gun—his 11th in a row at this competition. Competing with a field of nearly 200 top 3-gun shooters, Bulter, Grand Master shooter, 6-time Fort Benning Tactical and Open Champion and five-time USPSA Multi-Gun National Tactical Champion, led the pack taking first place in the Tactical Scope (T/S) division.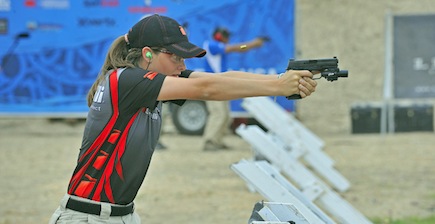 Also winning the T/S Division was Katie Harris, who took top honors as Lady Champion and placed 2nd in Junior's. Other Team Benelli top finishers in the T/S Division were Chris Sechiatano (14th) and Ben Fortin (15th). Kurt Miller took 6th place in the Tactical Limited Division (T/L) and Tony Holmes placed 4th in the Open Division.Hosting more than 350 shooters, the 2012 Superstition Mountain Mystery 3-Gun match was held last weekend at the Rio Salado Sportsman Club in Mesa, Arizona. Considered the longest running and most popular 3 Gun match in the world, Superstition Mountain marked the beginning of the season for the 3-Gun Nation (3GN) Tour.
"I had a great weekend, winning my 11th title in a row at Superstition Mystery Mountain 3 Gun Championship," said Butler. "Without Benelli's support I wouldn't have been able to achieve what I've done."
Benelli is a world leader in manufacturing quality semiautomatic shotguns and rifles that are known for their ultra-reliability and high-performance standards.