Professional walleye fishermen behind 'Pink Boats for Hope'
Minneapolis, MN (April 19, 2012) – Not sure how many fashionistas are dialed in on the newest color schemes in the National Guard FLW Walleye Tour tournament, just underway on the Mississippi River in Minnesota. But the hottest new color in tournament boats is pink. Lots of bright, bold pink. And the fishermen that own these beautiful Ranger Boats, Kevin Kerkvliet and Dean Kaminski, carry a message proudly: We are pink boats for hope.
"We experimented with a little bit of pink on our boats last year," shared Kerkvliet, pictured below with a nice 28.5 inch walleye from prefishing earlier this week. "This year we really kicked it up a notch. You think they're pink enough?" he laughs.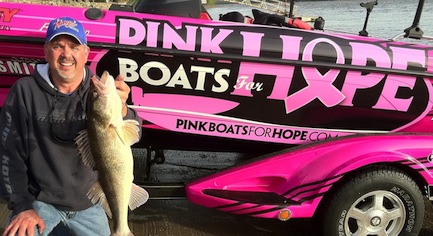 The fishing duo loves embracing a great cause. Those that battle cancer, particularly breast cancer have enjoyed a smile and a good time in a beautiful pink boat, whether at a fundraiser event or on the water fishing. "We've worked with some of the most amazing groups of gals across the Twin Cities that help raise funds and awareness for breast cancer," added Dean Kaminski. "They love having our pink boats at their events and we love taking folks out fishing to help raise money for great causes. And some of the gals are even willing to share their pink fingernail polish if we need to doctor up some lures."
"We work hard for all of our sponsors, promoting their products and services wherever we go," continued Kevin Kerkvliet. "Our logo, the pink boats, even our pink shirts get us invited places that professional anglers just might not get to go. And that hugely expands our reach. All while we're doing something good that we both belive in." Their sponsors are 100% behind it, too.
"These guys are doing a great job bringing fishing, a sport that we love, into new groups of people," shared George Liddle, Manufacturer's Rep for Ranger Boats and sponsor of Pink Boats for Hope. "It takes real men to run pink boats," laughs Liddle. "I love what they're doing and how this brings the sport of fishing into so many more people's lives. Almost all of us have had folks we care about battling cancer. It feels good to help out in this way." Liddle Marketing Company has helped Kerkvliet and Kaminski with logo'd decals and even lapel pins in the shape of a pink boat. The items sell for a nominal fee of $10 or $20, and fifty percent of the proceeds on the logo'd items will go to local programs that help those in the midst of their cancer battles. Organizations like Hope Chest or Hope Kids or even Prevent Cancer Foundation. A link to donate directly to these non-profits can be found on the website: www.pinkboatsforhope.com.
"The pink boats are an ice breaker, that's for sure," shared Kaminski. "People will come up and talk to us at the gas station or at the boat launch…and sometimes they want to tell you about someone in their life that's been affected. It's a privilege that folks want to connect like that. And then we can talk about how the walleyes are biting and what we're catchin' 'em on."
See www.pinkboatsforhope.com for complete information.
About The WON

The Women's Outdoor News, aka The WON, features news, reviews and stories about women who are shooting, hunting, fishing and actively engaging in outdoor adventure. This publication is for women, by women. View all posts by The WON →