National Junior Olympics Concludes Three-Week Glimpse into USA Shooting Future: Catherine Green a double winner
With the finals of Women's Sport Pistol now concluded, so too has the three-week journey that is the National Junior Olympic Shooting Championships (NJOSC) for rifle and pistol. Over the past three weeks, the U.S. Olympic Complex has showcased the best and brightest shooting talent in the country with more than 290 athletes on-hand demonstrating their marksmanship skills.
Monday's final in Women's Sport Pistol featured Starlin Shi (Potomac, Md.) demonstrating her prowess as a member of the National Junior Team as she shot her way to a gold medal. After winning a gold medal in Women's Air Pistol, Taylor Gallegos (Prosper, Texas) earned a silver medal followed by Kathryn Kananen (Florissant, Colo.), who put several nice strings together during the finals to jump into bronze-medal position.
Junior shooters are able to participate in state competitions sanctioned by USA Shooting, allowing them the chance to receive an invitation to shoot at the NJOSC hosted by USA Shooting in Colorado Springs. The program serves as an important element of USA Shooting's pipeline development system in promoting the shooting sports. Junior Olympic goals are to allow the skilled junior athletes to obtain National competitive experience for future development. The program also serves as an opportunity to appoint the top finishers to the National Junior Team.
"The Junior Olympics are the cornerstone of development for USA Shooting and serve as the pipeline for our future success in this sport," said Mike Theimer, Director of Youth Development for USA Shooting. "The abilities of the shooters we see year in and year out are a testament to the shooting clubs and state competitions that help nurture the development of these athletes."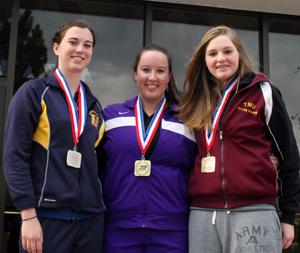 Highlighting the diversity of shooters in attendance over the past three weeks, athletes from 15 different states secured top-3 finishes in the nine contested events. Individual standouts included Catherine Green(Coventry, R.I.), a Texas Christian University shooter, who was the only double-winner among this year's field after she won both the Women's Rifle three-position and Air events. Michael Matthews (Johns Creek, Ga.) won the Men's three-position rifle event and would finish third in the prone rifle event as well. Matthew Chezem (Simi Valley, Calif.) equaled a National Junior Record with 598 match points in his second day of competition, propelling him to victory. Tony Chung (Diamond Bar, Calif.), a 12-year-old air pistol shooter, was the lone J3 competitor (14 years of age or under) to earn a podium spot as the California native earned a silver medal. For the top-3 finishers in each event, please see below.
The highlight however for all shooters in attendance is the chance to be selected as a USA Shooting National Junior Team member. Competitors earn this distinction by finishing in the top-two for any of the Junior Olympic events contested. In all, eight new athletes officially secured their spot as National Junior Team members and were awarded an official USA Shooting Team jacket.
Numerous opportunities exist for young people interested in both the rifle and pistol shooting sports. The junior rifle event created to prepare juniors to compete in Olympic-style shooting is called Three-Position Air Rifle (3PAR). Many organizations have joined to form the National Three-Position Air Rifle Council including USA Shooting, Civilian Marksmanship Program, 4-H Shooting Sports, American Legion, Daisy/U.S. Jaycees Shooter Education Program along with the Army, Navy and Marine Corps JROTC Commands. In addition, the National Rifle Association (NRA) also runs a 3PAR program.
The junior pistol event created to lead development in the sport is the Progressive Position Air Pistol (PPP). USA Shooting and the NRA both support this event and hold a jointly sponsored National Junior Olympic Progressive Position Air Pistol Championship, which will be held July 6-8 in Anniston, Ala. at the CMP South Shooting Center.
Still to come later this summer will be the NJOSC for Shotgun taking place July 10-17 in Colorado Springs.
For more information on the youth shooting sports, click here: http://www.usashooting.org/membership/youth-programs
You can also check out these videos related to the Olympic shooting sports and featured athlete interviews: http://www.youtube.com/user/USAShootingTeam?feature=mhee#p/u
About The WON

The Women's Outdoor News, aka The WON, features news, reviews and stories about women who are shooting, hunting, fishing and actively engaging in outdoor adventure. This publication is for women, by women. View all posts by The WON →