Jessie Duff and Katie Harris take home top honors in 3-gun championship
ACCOKEEK, MD (July 16, 2012) – Team Benelli 3-Gun shooters racked up impressive wins in spite of brutal temperatures at the first annual Benelli/Rockcastle Tactical Shotgun Championships held June 29th- July 1st, at Rockcastle Shooting Complex near Park City, KY.
Top Team Benelli 3-gunner, Taran Bulter, took high overall in Standard Division, while Ben Fortin took fourth place, and top juniors and lady shooter, Katie Harris, led the juniors and ladies with a first-place win in Lady's Standard Division. That earned Katie a very impressive sixth-place overall out of more than 100 shooters. Jessie Duff took first-place honors in the Lady's Open Division, Rob Romero took second overall in Standard Division, while in Standard Manual Division Patrick Kelley came second, and Jansen Jones was third.
The match included three divisions—Open Division; Standard Division and Standard Manual Division. Shooting 24 stages took place over three days and required approximately 253 rounds of birdshot, 30 slugs and 25 rounds of buckshot to complete.
"I think it was a big success despite the heat wave we endured," said match director, Joe Harris. "The match was set up to be fast and challenging at the same time. All the top finishers in each division were extremely close and everyone really enjoyed themselves."
For the latest news and product information visit www.benelliusa.com.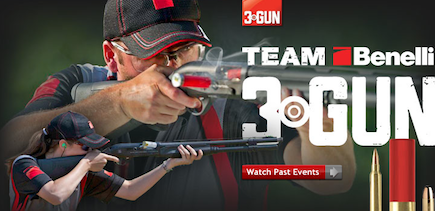 To watch exciting videos and fast action with Team Benelli visit www.youtube.com/benelliusafirearms
About The WON

The Women's Outdoor News, aka The WON, features news, reviews and stories about women who are shooting, hunting, fishing and actively engaging in outdoor adventure. This publication is for women, by women. View all posts by The WON →