Shooting champ Kim Rhode receives honor reserved for American icons
EAST ALTON, Ill. – This past July in London, shotgunner Kim Rhode cemented her place in history as one of the greatest Olympians of all time. Rhode's longtime sponsor, Winchester® Ammunition, is honoring her success by featuring Rhode on a commemorative box of legendary AA® target loads.
Rhode now takes her place among iconic Americans John Wayne, Teddy Roosevelt and Oliver F. Winchester as the lone individuals to be featured on Winchester Ammunition boxes – impressive considering the Winchester brand dates back to 1866.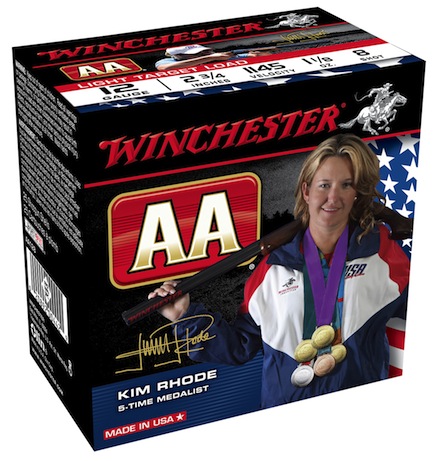 In London, Rhode made history by becoming the first U.S. athlete to medal in an individual sport in five consecutive Olympics. She dominated the women's skeet competition to win her third career shooting gold medal, becoming the first woman ever to achieve three shooting golds.
"Kim is an American hero and an inspiration to anyone with hopes and dreams," said Brett Flaugher, Winchester Ammunition vice president of marketing and sales. "Kim's career accomplishments are unmatched in Olympic competition and we're proud to say that she shoots Winchester Ammunition."
The limited edition Winchester® AA® boxes featuring Rhode will be standard, 25-round boxes of 2 3/4-inch, #8-shot target shells. Winchester will donate a portion of the proceeds generated by the Rhode boxes to USA Shooting. Winchester has been a proud sponsor of USA Shooting and the official ammunition of the USA Shooting Shotgun team since 1999.
"I'm honored and humbled by the support of Winchester and excited to be on this commemorative box of AAs," said the 33-year-old Rhode. "It takes a lot of hard work and dedication to become an Olympic champion, and it helps when you also shoot the best ammo."
In four years of preparation for London, Winchester supported the USA Shooting Shotgun Team with almost three million rounds of Winchester® AA® ammunition. To put that in perspective, 3 million rounds of AA ammunition weighs about 230,000 pounds – about the same as 60 standard-sized cars.
With a company heritage dating back to 1866, Winchester Ammunition was there for the taming of the American West, the Allied Forces' victory in World War II and through the years, millions of fond memories made in the great outdoors and at the range. To learn more about Winchester, visit Winchester.com or connect with Winchester at Facebook.com/WinchesterOfficial.
Media Contacts
Michael Turbyfill: michael@chevalier-adv.com
Jonathan Harling: jonathan@chevalier-adv.com
About The WON

The Women's Outdoor News, aka The WON, features news, reviews and stories about women who are shooting, hunting, fishing and actively engaging in outdoor adventure. This publication is for women, by women. View all posts by The WON →