Order Julie Golob's book, 'SHOOT: Your guide to Shooting and Competition,' and get autographed book mark
From Julie Golob … Are you looking for a unique Secret Santa gift or a stocking stuffer for that gun enthusiast in your life? Wanting to share your passion for shooting with that special someone this holiday season? (Pssst! Guys, you might want to reread that last one.) Perhaps you're looking for some winter reading material to help get you ready for the 2013 season? If so, I hope you consider my book, SHOOT: Your Guide to Shooting and Competition!
Interested? Read what they're saying about SHOOT. Check out the reviews from renowned experts like Masaad Ayoob, Michael Bane, Ken Hackathorn, Roy Huntington, Rob Leatham, Andrew McKean, Jim Scoutten and more. Take a look at the reviews of SHOOT in American Handgunner, Cheaper than Dirt, Guns & Ammo, GunNoob.com, ITS Tactical, Shooting Sports USA and Shooting Illustrated. There's also a…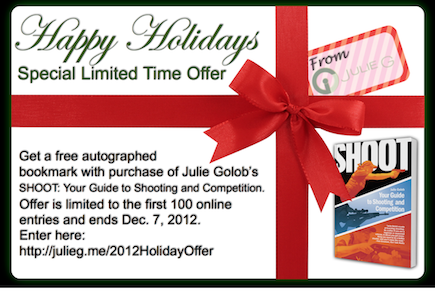 Special Limited Time Offer
Order a copy of SHOOT online or purchase in a store, save your receipt and complete a simple online form to receive a free autographed bookmark. This special holiday offer is limited to the first 100 complete entries and closes on December 7, 2012. On the form you have the option to select whether the bookmark is a gift for someone else or for you. After all, there's nothing wrong with spending a little on yourself this holiday season! Choose from three options, a blank bookmark, a signed bookmark or enter a name to have it personalized. Just be sure to complete all fields accurately and please note that incomplete submissions will not be accepted. It's that easy!
About The WON

The Women's Outdoor News, aka The WON, features news, reviews and stories about women who are shooting, hunting, fishing and actively engaging in outdoor adventure. This publication is for women, by women. View all posts by The WON →