Trout Unlimited offers free first-time membership to female anglers
Trout Unlimited is offering a free one-year membership to first-time members who are females. Sign up today.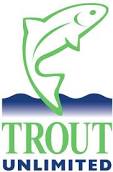 For the next year, you'll receive all the benefits of a paid membership:
• 1-year subscription to TROUT magazine
• 16-month TU calendar (mailed in the fall)
• official TU membership card
• car rental & hotel discounts
• TU decal
• Local chapter membership
And another, less tangible benefit as well: the pleasure of knowing you're part of a growing community of women who enjoy angling and want to keep America's rivers cold, clean and fishable.
Together, we can make our trout and salmon fisheries healthier, for us and the next generation. Join us in this important work.
Note: This offer is available to new members only. Not applicable for existing members.Thank you for taking advantage of our free, introductory membership to Trout Unlimited. We are pleased to make you a part of our community of anglers working to conserve, protect and restore America's coldwater waters. We hope you'll take a minute to find out more about what your fellow TU members are doing around the country by visiting tu.org or by joining our "Women in TU" group on Facebook. Visit Trout Unlimited to sign up for your free membership.
About The WON

The Women's Outdoor News, aka The WON, features news, reviews and stories about women who are shooting, hunting, fishing and actively engaging in outdoor adventure. This publication is for women, by women. View all posts by The WON →