Molly learns about Cowboy Mounted Shooting from champion Andra Olson
In this column, Millisecond Molly (Smith) discovers the world of Cowboy Mounted Shooting after interviewing Colt-sponsored shooting champion Andra Olson at SHOT Show 2014.
From reading Hemmingway and Steinbeck, I've gotten a taste for classic adventure over the years. Classic … adventure … and I found myself at SHOT Show 2014. Perhaps it wasn't the trek from Oklahoma to California, but a long car ride came with the trip, and then I found myself in a sea of — people. As I floated (Or perhaps ducked, dodged, barrel-rolled?) from booth to booth, a new source of inspiration became apparent.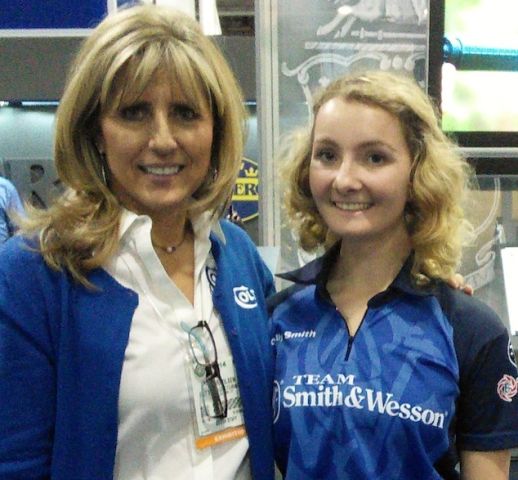 I had the opportunity to interview a woman with a taste for adventure — Andra Olson, Colt-sponsored professional and World Class mounted shooter for 15 years.
Whoa there! That's a title I haven't seen before.
What in the wide world of shooting is Mounted Shooting?
Mounted shooting takes place in an arena; competitors shoot 10 balloon targets while their horse runs in a designated pattern. The competitors holster 2 revolvers, each with 5 shots. That means no make-up shots! The ammunition consists of blanks and the powder pops the balloons.
"It's a timed event which is very fun," Andra said, "There's no judging. It's a matter of what you can put together with your horse. Can you go out, put in fast time, fast moves and be accurate? If you can put that together, you're going to win!"
To me, a strong advantage appeared: "Do you ever want to blame your horse?"
Andra chuckled and looked at me knowingly, "It's a team sport. My teammate is my horse. You can't blame your teammate. It's a 'we' thing. I have bad days, he has bad days, it's ideal when we both have good days."
"What about bad days?" I asked.
"You go back to the building blocks and have an understanding of each other."
Building blocks vary from sport to sport, but the patience, passion and willingness to improve is something that expands past the shooting base. The matter of "understanding" appeared a little more complex as a non-rider.
"I have a few horses. Pal, my world champion horse, is not competing right now. It's time to create another relationship with another horse. It's difficult to do. There's an emotional bond. There's still that emotional bond (with Pal) but I want to develop that bond with my other horse – Jerry," said Andra.
She continued, "It is quite a feat to convince a horse to accept gunfire. My other horse is named Shake — and I kind of … shake-rattle-and-roll with him! He's got a lot of training left. He needs confidence in himself. We're slowly working on that."
Confidence seemed to be something that came to mind naturally for me when I thought of horses (keep in mind, that I haven't been around horses) and to think of a horse in say, the high-school-phase of gawkiness and self-awareness seemed bizarre. Andra noticed my expression as I pictured Jerry, the horse with the unfortunate haircut that made all the other horses ignore him.
"A horse is a herd animal, so to separate a horse from the herd … they have to have a lot of confidence." So it is like high school! "They need to know 'I'm OK.' It's a lot of trust. It's knowing that he can trust me to expose him to things that aren't normal for a horse's environment. [Horses are] all different, just like people. You're fortunate if you get a horse comfortable in a month. For Shake, it's been 2 years."
I asked Andra for her thoughts on the dominance of men in the industry, in her sport – and as I started to phrase my question, I got this response: "So, in a male-dominated sport, such" — her eyebrows knitted together and her mouth went askew.
"There's not a big difference (between genders) it's close to being 50-50," stated Andra.
My jaw dropped. She continued, "When the sport originated, yes, it was male dominated. Mainly because it was men who started it. I believe that the sport is an equal competition. Women are equally aggressive riders and in some cases they're more aggressive."
I loved hearing that — a shooting sport with so many women involved. It is a classic adventure, one that women had successfully entered and now compete in. In the midst of SHOT Show, a new sort of inspiration came with talking to Andra. She is a classic — a petite, polite woman, with hair and makeup touched to perfection, with passion and ability that brings motivation to anyone who hears her speak. Listening to adventures of mounted shooting, I found inspiration of my own. I might even turn it into a book: Shake of Wrath? Of Brass and Arms? For Whom the Horse is Confident?
Maybe just The Adventures of Andra and Shake.
Learn more about this shooting sport at the Cowboy Mounted Shooting Association, Cowboy Sports Association and Mounted Shooters of America.
About Molly Smith

California teen shooter Molly Smith shoots for Team Smith & Wesson, and prefers a 627 Smith & Wesson iron-sighted revolver. She attends several matches each year, and loves to write about them at her column, "Millisecond Molly." View all posts by Molly Smith →