Sock it to me with Browning socks for outdoor wear
Shelly Ray, of HERCAMOSHOP, has worn a lot of socks in the past few years, trying to find the best ones for her customers. Find out what she wears and why.
"My feet get cold!"
These are usually the first words out of a lot of ladies' mouths when they approach our booth at any show. First, let's remember, the best layer of defense is always going to be at the skin level. Any type of base layer is going to be crucial.
I have had ladies exclaim, "I wear 3 or 4 pairs of socks and my feet still get cold". THAT'S the reason they are cold. Moisture wicking and air circulation are the 2 biggest factors in your feet staying warm.
Were you aware that wool is one of the most breathable materials there is? I wear my wool socks all year long. Yes even in the summer. If you have air circulating around your foot, then it has the ability to dry. One good quality pair of socks is what you want. You also want to be sure that your boots aren't so tight that you can't get air circulation in them.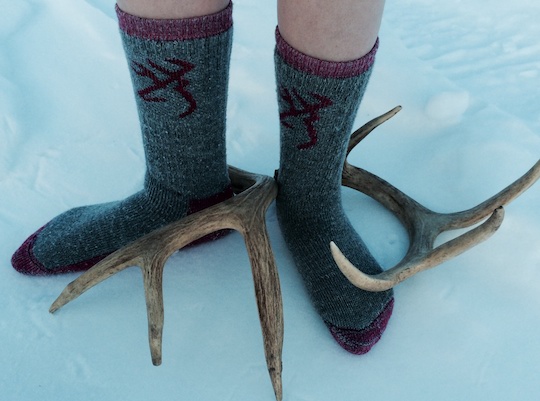 Sock Snobbery
I happen to be a sock snob. There, I said it. I am that person who is standing in the middle of the grocery taking her boot off if I get a wrinkle in my sock, because … that drives me nuts! I have to fix it immediately. When I am hunting and can't do this, it's important that I have socks that will stay in place all day. The Browning boot sock is my favorite for deer and upland hunting. It stays put all day long, even when I have to chase our German shorthair all over creation, while he's after birds. They are made of 65-percent acrylic, 20-percent wool, 13-percent nylon and 2-percent spandex. A pair will cost you $11.99.
For warmer weather, I love the Browning Angora sock. It is a lighter weight, shorter sock that is great for hiking or early season hunting. Still long enough to reach the tops of my boots this sock is very soft and cozy. Being made of 60-percent acrylic, 20-percent angora, 17-percent nylon and 3-percent spandex, this sock will also become one of your favorites also. It retails for $10.99.
Sock Mama
If you have any questions about what to put on your feet, sock it to me! I'm always happy to help you find the right combination of boots and socks for your outdoor adventures.
Feel free to get in touch with me at our online store!
About The WON

The Women's Outdoor News, aka The WON, features news, reviews and stories about women who are shooting, hunting, fishing and actively engaging in outdoor adventure. This publication is for women, by women. View all posts by The WON →