DIVA WOW hosts 'How to Select a CHL Holster' clinic
Unique live-fire opportunity for participants to try and buy holsters
Dallas, Texas – May 30, 2014 – DIVA WOW and Chris Rainey of ProActive Defense will host a unique event, "How to Select a CHL Holster for Women," on Sat., June 21, at Quail Creek Shooting Range in Argyle, Texas. The goal of this event is to introduce 90 women to different methods of concealed carry and to allow them opportunities to "try before they buy." Holsters from the industry's leading companies will be compared for comfort, safety and concealment.
Proactive Defense will instruct participants and supervise drawing from holsters and shooting downrange. Too often, holster clinics do not allow live-fire or practical, real-world applications. Participants may bring their handguns to the clinic and practice with a new holster. Holsters will be available in the most commonly carried calibers: .38 revolvers, .380 semi-auto, .40 semi-auto and 9mm.
Carrie Lightfoot, of The Well Armed Woman, will present special carry options and lead a discussion regarding on-body concealed carry.
"Our research has revealed 2 main obstacles for women concealed carriers," said Judy Rhodes, founder of DIVA – WOW. "Many holsters are not made to fit women's varied body types and women's clothing allows too much 'printing' from improperly selected holsters."
"We hope you can join us in introducing innovative products for women to experience how to properly select and purchase a quality concealed carry holster. Your support is vital to assist DIVA WOW achieve its mission to introduce and empower women in the outdoors," added Rhodes.
Companies that want to participate in the clinic may send 10 holsters. Please contact Judy Rhodes regarding other ways to support this event. Display tables start at $250 for the day. Vendors may sell holsters at the event.
Participants may register online. Bring 2 boxes of factory-made ammunition for your firearm, a sturdy leather gun belt and shooting ear/eye protection. Earmuffs are recommended.
Loaner and rental guns are available. No open-toed shoes or low-cut shirts on the firing line. Ball caps and sunscreen are recommended.
About DIVA WOW: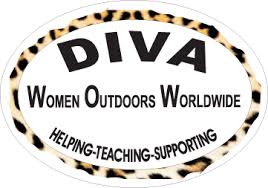 The mission of DIVA WOW is to help, teach and support women worldwide in a women friendly, non-threatening, supportive environment by introducing them to shooting sports and a variety of outdoor activities.
Since 1999, DIVA WOW has dedicated its ideas to encouraging and mentoring women and youth in shooting sports. With successful clinics throughout the USA, we have introduced over 4,000 women and youth to the shooting sports!
Learn more about DIVA WOW.
About The WON

The Women's Outdoor News, aka The WON, features news, reviews and stories about women who are shooting, hunting, fishing and actively engaging in outdoor adventure. This publication is for women, by women. View all posts by The WON →