Ladies, come join us for an exciting upland bird hunt in scenic Western Maryland. The Fall foliage will be at its peak, the air crisp and the birds plentiful. Calibered Events LLC has planned a weekend of hunting and sporting clays at Deep Creek Lake Mountain Resort from Thurs., Oct. 16, to Sun., Oct. 19.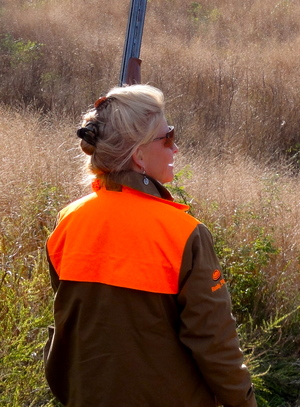 Guests will enjoy hunting rolling hills of private fields & brushy undercover but first will sharpen their skills with a combination of sporting clays and five stand before heading afield. Each huntress will have the opportunity to bag 3 pheasants and 4 chukars on this half-day guided hunt with trained pointers.
The accommodations are spectacular and fully equipped with all the amenities you'd expect, including several fireplaces, a game room and a wet bar. There are five bedrooms, six bathrooms, multi level decking to take in the views, an outside hot tub and fireplace overlooking the lake. Room reservations will be based upon the order they are received.
Event Outline
Thursday – Check-in 4pm and then settle in with fellow wing shooters, enjoy your favorite beverage in front of the outside fireplace, enjoy the camaraderie as you get to know one another.
Friday- Safety Review / Share Tips & Tactics / Five-Stand & Sporting Clays
Saturday – Upland Hunt for pheasant & chukar at Wings Of Challenge.
Sunday – Check out 12pm.
Costs:
$630 per/person (2 payments of $315.)
Includes: Three nights lodging, one half-day of pheasant & chukar hunting for up to 3 pheasants and 4 chukars, 3:1 hunter-to-guide ratio and pointer, 100 rounds combination of sporting clays and five stand.
Not Included: RSA License (6.00), shot shells, meals or gratuities.
This hunt is limited to 9 lucky gals-Register Early!
**Beretta 12 & 20 gauge Xplor 400 shotguns available upon request**
For additional information email Ann Marie Foster @ cevent@verizon.net