7 questions with 3-Gun competitors Kay and Lena Miculek
Guess who I ran into during the 2014 FNH USA 3-Gun Championship? None other than Kay Miculek and Lena Miculek-Afentul, that's who!
What makes these ladies so special? Not only are they top ladies in 3-Gun, they also are mother and daughter. Residing in Shreveport, La., both ladies hold numerous competitive shooting titles.
Standing in line, waiting to enter the awards ceremony, with my iPhone in hand, the interview began.
Michelle: Ladies, we just finished a match where of the 345 competitors, only 20 were female. When did you start shooting 3-Gun, and why did you chose that type of competition?
Kay: My first 3-gun competition was about 1991, at the Soldier of Fortune match. I was trying to shoot any competition I could. Jerry [her husband] and my brother Jim [Clark] said, "Come on, let's go down and shoot this Soldier of Fortune match."So, we just did it.That's where it all started.
Lena: The Superstition Mystery Mountain, in Mesa, Ariz., 2 years ago was my first 3-Gun match ever. None of the other shooting sports interested me. When I saw mom and dad shooting 3-Gun, it looked a lot more intriguing to me than anything else I had ever seen. So, I decided pretty quickly I wanted to give it a try.
Michelle: If you had to choose 1 firearm from your 3-Gun bag, and shoot a 1-Gun match, which would it be?
Kay: Handgun first comes to mind, but I've shot so many handgun-only competitions. Although, I've done them all singly, handgun is the only one that I have a chance to beat anyone at.
Lena: The rifle! A handgun is rough for me, so I'm not going to go with that one. And, the shotgun, I've already done that. So I'd like to do an all-rifle match.
Michelle: Do you have any rituals you do before each stage of a match?
Kay: No.
Lena: I do take the time to clear my mind. Whenever I have my muffs on, don't talk to me. Usually, it's when I'm 2 shooters down. I take that time to go over everything, think through what I have to do and zone out. This is when I focus.
Michelle: There are many women who are hesitant to get into the shooting sports. Do you have any recommendation for those who may be on the fence about getting into 3-Gun?
Kay: That's any easy one. Shorten your learning curve, before you start competing, get some lessons from a good, reputable shooting instructor. It will cut down on a lot of wasted ammunition and money spent.
Lena: Don't be timid, just go out there and do it! There are always many people willing to help. Don't take everyone's advice though; pick out the people that are actually shooting well.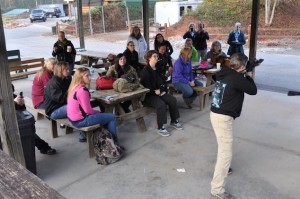 Michelle: If you could travel anywhere in the world for a vacation, and no, this doesn't involve shooting, where would you choose?
Kay: I would like to go to Australia. I've never been there. It's a big place with a lot to see and do. Plus, there are many different species of game to hunt.
Lena: New Zealand! I think it's a really pretty island, and I was there when I was a lot younger. I remember it being really fun then, so I would like to go back now.
Michelle: Finally, ladies, what's your favorite treat to get at Dairy Queen (DQ)? (The significance of this questions lies in the abbreviation DQ. As a competitor in the shooting sports, there is always the chance of getting disqualified, or DQ'd. In the unfortunate event this happens, it has become tradition for that shooter to pay a visit to Dairy Queen, and have his or her picture taken in front of the sign.)
Lena: The S'more Blizzard. Unfortunately, I discovered that last year at the FNH USA 3-Gun Championship.
Kay: If I had to go to Dairy Queen, I would get the hot fudge sundae.
(Kay has never been DQ'd.)
When I asked Kay and Lena what their hobbies are, Lena's first response was, "Preparing to shoot a competition."I then specified it had to be something outside of shooting. There were some giggles, and a bit of hesitation. Apparently their lives always revolve around shooting, in one way or another. Although, Kay said she likes to read, both agreed they have no time for hobbies. What a great life! These ladies are able to do what they enjoy everyday, and call it work.
So, where did Kay and Lena place at the 2014 FNH USA 3-Gun Championship? Lena won High Lady in Tac Optics and Kay was High Lady in the Open division. They took first and second place in the ladies-only category.
As for me, in the ladies category, I placed 13th. Will I ever be competition for these ladies? No. But, I am out there enjoying the sport of 3-Gun and having the opportunity to shoot alongside world-class competitors.
About Michelle Cerino

Michelle Cerino, aka Princess Gunslinger, entered the firearms industry in 2011 when Cerino Training Group was established. She immediately began competing in both 3-Gun and NRA Action Pistol, becoming a sponsored shooter. Michelle is currently a columnist and Managing Editor of Women's Outdoor News, as well as owner of Pervenio LLC. She also manages social media for Vera Koo and GTM Original. Michelle encourages others to step out of the comforts of home and explore. View all posts by Michelle Cerino →