LG Brings Home Antelope for Dinner
Our LG brings home antelope for dinner, but there's a story to go with the hunt. As new hunters grow into sportsmen, their interests in methods of take expand. The Little Gal (LG) has developed into quite the young hunter. This year she went beyond her traditional methods of hunting and got an amazing result. She took her bow and took her time to complete a beautiful first archery harvest.
History
LG has harvested multiple big-game animals with her rifle, but after competing in shooting sports, she wanted to expand her horizons. She shoots indoor competitive archery league, 3-D archery tournaments and Youth Hunter Education Challenge archery events. Through the YHEC program, there is a focus on hunting and hunting safety. She wanted to take her skills to the field.
Success Rates
In Colorado, the success rate for harvesting antelope during rifle season is relatively high, at 50 percent statewide. Archery season success is a bit lower, with a statewide annual harvest rate of 24 percent. That's quite a challenge LG was setting for herself.
The Hunt
I was pretty excited to take my trusty sidekick along this year. LG and I headed to the eastern slope of Colorado to chase pronghorn, aka antelope. The temperatures are generally in the high 90s to more than 100 degrees. We made a plan and used a couple methods for the hunt. We would spot-and-stalk in the morning and sit in the blind in the heat of the day.
Although we were out of the sun, the blind is no cool place to be in such extreme heat. We packed a cooler of water, neck chillers and snacks, and watched water holes, waiting for the black-and-tan "speed goats" to approach.
LG didn't like the blind, so she took off on several spot-and-stalks. She had found a freak, and she wanted him bad. She stalked, she used decoys, and she used camo netting to get near him, but he proved to be a percent smarter than he'd let on. He'd let her get within 60 yards of him and then he'd leave a trail of dust. He'd trot across the prairie for 200 or 300 yards, and then he'd stop and stare. The spot-and-stalk went on for days, to no avail. LG simply couldn't get within the 40-yard range she needed with the bow.
One morning she decided to sit with me in a blind. Lo and behold, in came a pronghorn buck. We ranged him, and she pulled back her Mathews Monster Chill and let an Easton Ion fly at 35 yards. I watched as her arrow sped right through that buck. She looked at me hopefully as the antelope ran from her view. I smiled because he ran just 40 yards, spun and fell over on the ground. LG had accomplished her first big-game harvest with her bow.
After the Shot
Since the day was so hot, we went to work immediately. We quickly packed him out, de-boned him and put him on ice. We've been enjoying the organic antelope meat ever since.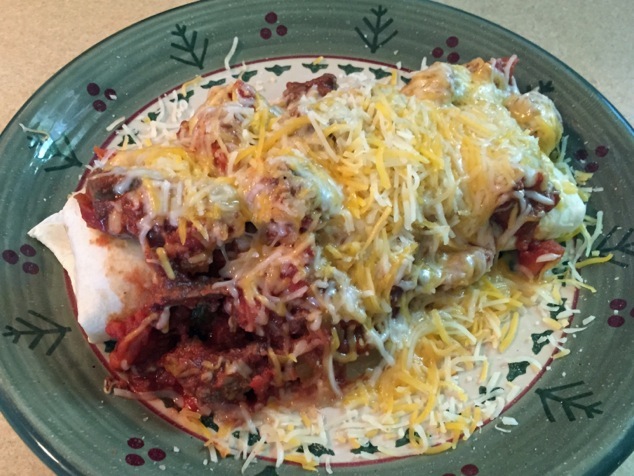 Smothered Antelope Burritos
Author:
Prep time:
Total time:
Nutritious and organic … fresh antelope wrapped up in a burrito. What could be better?
1-1/2 lb. Antelope meat, cubed (other game or store-bought meat may also be used)
1 Tbsp. Olive oil
½ tsp. Garlic powder
½ tsp. Onion powder
½ tsp. Seasoned salt
1 can Rotel Diced Tomatoes & Green Chilies, 10oz. (We use mild because LG doesn't like spicy foods)
1 can Hatch Diced Green Chilies, 4 oz.
1 can Tomato paste, 6 oz.
Flour as needed (to thicken)
1 can Refried beans, 16 oz.
6 Flour tortillas
Shredded Mexican cheese, or nacho and taco cheese
In a large skillet, cook the olive oil and antelope meat over medium-high heat.
Add garlic powder, onion powder and/or seasoned salt to taste.
(Note: Take care not to overcook game meat. Heat until almost cooked through. Game meat cooks rapidly.)
When meat is almost cooked through, drain off excess fat.
Add Rotel, diced green chilies and tomato paste.
Mix thoroughly and reduce heat.
Simmer until the meat and sauce is hot and bubbly.
If the sauce is watery, add flour as needed to thicken, making a gravy-type sauce.
In a saucepan, warm the refried beans.
When the meat sauce and beans are hot, heat tortillas.
Add small amount of beans, meat sauce and cheese to the tortilla.
Roll into burrito.
Smother the top of the burrito with meat sauce and top with cheese.
If desired, melt cheese under broiler or in microwave.
We even made a little video that walks you through the process of making this relish dish! Enjoy!
About The WON

The Women's Outdoor News, aka The WON, features news, reviews and stories about women who are shooting, hunting, fishing and actively engaging in outdoor adventure. This publication is for women, by women. View all posts by The WON →