Mia Anstine Reviews a Hawke Optics Riflescope
I'm often asked what caliber rifle a woman hunter should shoot, but I'm not often asked what scope should be put atop said rifle. Quality optics are an important part of the number-one hunting tool in our country. When we're teaching new shooters how to shoot, we also teach them the parts of the scope, how to look through it, how to acquire their target and how to put the crosshairs on the mark.
Recently I was afforded the opportunity to test-drive a Hawke Optics scope. It's a quality scope with an affordable price point.
Hawke Sport Optics – Endurance 3–9×40
It's often said, "bigger is better," but not with this little baby. With a 1-inch tubular diameter and 12.1-inch overall length, this compact scope weighs in at a mere 17 ounces. Any way to lighten the load is always welcome.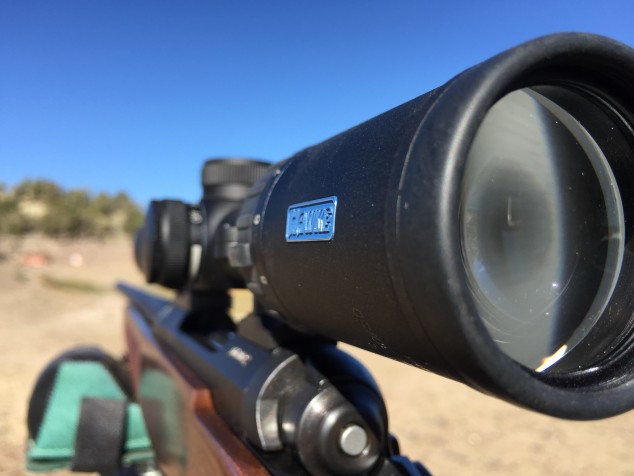 Hawke attests that the Endurance LER scopes "have an optical system developed to suit high-recoiling and magnum calibers where extended long eye relief is required." I was mounting this scope on a Savage Lady Hunter, .243 rifle. It's a compact firearm, designed to fit a lady. It and the Endurance made a good combo, but presented a challenge.
The scope has a short tube length, which meant standard scope rings covered the chamber opening of the rifle. I needed offset rings to allow cartridges to be ejected. I spent a lot of time looking for offset rings locally. When you're ready to mount this scope on your rifle, I recommend ordering from Hawke directly. It offers a variety of forward-mount rings, which can be reverse-installed over a smaller chamber, allowing cartridges to be ejected.
Once I found the proper rings, the short tube allowed for little adjustment for eye relief. Don't despair! The special optic system on the Endurance lived up to Hawke's promisies. I was able to obtain a complete sight picture and appropriate eye relief without a problem. No need to worry about scope eye!
Sighting in the Endurance was a breeze. I mounted the rifle to a Lead Sled and ran Winchester Super X .243 Win. 100-grain ammunition downrange. I sighted in at 200 yards and was pleased to see the bullet penetrations on the target moving precisely where I needed as I made scope adjustments.
Hawke has designed their scopes with tool-less turret. They're clearly marked and even indicate adjustment direction. With a solid focus, to feel and hear the clicking, and a light turn of the knobs, the scope was adjusted down and over to the bull's-eye.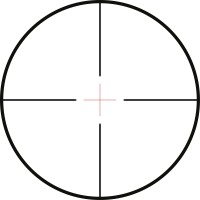 I was happy to see that the reticle itself is etched into the glass. That meant I wouldn't have to worry about crosshairs being knocked loose if something went awry in the field.
The Endurance scope I used had the 30/30 Centre Cross. It's a variation of an old-school crosshair, with a red illuminated reticle cross (+) in the center. With a rheostat adjustment knob on the side of the scope, it's easy to adjust the intensity of illumination. This feature makes crosshair visibility easy in any light condition and against any color background.
After sighting in on the bench, I moved to other shooting positions. I shot with the scope dialed down to low power, and then on high. Shot groupings fell within 4 inches at 200 yards. I, of course, found a wider spread with my shots, but if you've learned anything about scopes, it could be that added magnification also magnifies your breathing, wobbling or any other movement. As I mentioned, I intended to shoot a deer with this firearm. The Endurance scope definitely had me within a shot group smaller than a deer's vital region.
I headed to the field to give this scope a real-world try. According to Hawke, the scope lenses are multicoated to gather the highest amount of light. Although I've looked through other high-dollar scopes that appeared a tad brighter, the Hawke scope proved itself.
In the cloudy, early hours I had the crosshairs on a buck in the shadows. The scope collected more than enough light to see my target and what was beyond. That was good news, but what was even better was when I tested the rheostat illumination the red "+" stood out, right on the buck's vitals. In conclusion, the scope helped me get the job done.
Hawke Sport Optics – Endurance 3–9×40: Long Eye Relief Riflescope
MSRP: $239.99
About The WON

The Women's Outdoor News, aka The WON, features news, reviews and stories about women who are shooting, hunting, fishing and actively engaging in outdoor adventure. This publication is for women, by women. View all posts by The WON →