How to Set Effective Training Goals for the 2015 Competition Shooting Season
In this guest post, competition shooter Karla Herdzik details how to set effective training goals for the 2015 season.
Ah, the off-season. That time of the competitive shooting year when shooters rest, relax, actually have a weekend at home, and (maybe) clean their guns before putting them in the safe for the winter. And of course – plan for next year.
It's during the cold winter months at home that shooters often sit on the couch, laptop in hand, carefully planning out next year's schedule and wondering how to stretch those budgeted dollars and vacation days to the max.
Shooters often use this time (or, they should) to assess their performances from the previous season and set some goals for next year. Here are a few suggestions for getting your best out of the 2015 shooting season:
1. Figure out where you want to go and why you want to go there. The first step in planning for success is determining what success actually looks like to you. So, you need to decide what your ultimate goal is.
Is it achieving a certain classification?
Is it getting a new sponsorship?
Is it beating a particular shooter in a match?
Is it simply becoming more comfortable when the timer beeps?
Whatever it is, figure out your goal. Write it down. Next, determine why it is you want that thing. You have a lot of hard work up ahead, so when you're tired and discouraged, you'll need something solid to motivate you. Figure out your "why," and write it down so you'll remember it when the going gets tough.
2. Take stock of where you're at, right now. Now that you know where you want to go, you have to figure out where you're at right now, so you can plot out a course for how to get there. This is a great time to review your match videos from this season with a critical eye – keep your eyes open for your progress during the course of the season, and for those persistent weaknesses that plagued you all year long. If you kept training logs, review those now, too. Write down your strengths and weaknesses; consider ranking them on a scale from "1, I am a ninja" to "5, this is flat-out embarrassing." (Oh, you didn't take videos this year? Well, weakness located; put it on the list of things to fix.)
3. Determine how much you have to invest – be realistic. Remember this: most of us are not professionals. We have real lives and real jobs that require an awful lot of time – so be realistic about how much time and money you have to invest in your shooting goals. Your number is probably going to look much different than other shooters because you lead different lives. There's nothing wrong with this, as long as you live in your reality and set your goals for your performance accordingly.
4. Make a plan. Revise previous goals as necessary. Now that you know where you want to go, where you're at now, and how much you can invest, you can make a plan for the 2015 season.
Make small, bite-sized goals with specific timelines to help you reach your ultimate achievement. Write them down! This will keep you motivated as you achieve these steps, as well as keep you on track toward your larger goal.
Develop a training plan to maintain your strengths and attack your weaknesses; reassess your skills every few months.
Maybe you've realized that with your current skill level, budget, and work schedule, there's no way you're going to get to your ultimate goal this year. That's OK. Figure out something that you can achieve, and revise the timeline for your ultimate goal accordingly.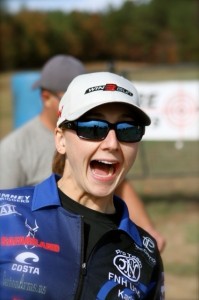 Now get to work! Next season is right around the corner!
Oh, and one more thing … not being a professional means we aren't actually trying to pay our mortgage with prize table winnings. This is incredibly important to remember! For 99% of us, we are simply normal people with a passion for a sport in which we are not at risk of life, limb, or property. Coming to grips with this revelation is incredibly liberating, because it relieves a lot of (self-generated, mostly) pressure to perform.
So … smile, because this is supposed to be fun!

Karla Herdzik is a nationally-ranked competitive 3-gunner, and an expert at baking range cookies to share with her squad. When she's not shooting or working as an analyst for the Army, Karla enjoys CrossFit and Olympic lifting. Karla began shooting USPSA in 2008, and discovered the joy of 3-gun in 2011. She now enjoys blogging about her shooting and fitness ventures on a variety of websites. Follow her blog at www.gunsandbarbells.com.
"Like" Karla Herdzik on Facebook.
About The WON

The Women's Outdoor News, aka The WON, features news, reviews and stories about women who are shooting, hunting, fishing and actively engaging in outdoor adventure. This publication is for women, by women. View all posts by The WON →