Where Was TeamWON? Our Travels in 2014
Michelle Whitney Bodenheimer reports on where TeamWON traveled in 2014.
As I reflect back on 2014, I cannot help but feel incredibly grateful for my many adventures this past year in both field and stream. The majority of my excursions were in my home state of Oregon, where I spent time hunting bear in the Blue Mountains, chasing blacktail deer, ruffed and blue grouse on Mt. Hood and catching oversized, prehistoric sturgeon on the Willamette River near downtown Portland.
My hunting and fishing adventures also took me far beyond the Pacific Northwest. This past year I joined some of my closest girlfriends and fellow staffers for Próis Hunting and Field Apparel dove hunting in Texas, fishing the Chain-o-Lakes in Wisconsin and even flying across the Atlantic Ocean to Africa.
Going on safari in the Eastern Cape of South Africa with 5 other women turned out to be my most memorable activity of 2014. With a beyond-compare hunting experience, I finally took a zebra — a species that has been at the top of my "bucket list" almost as long as I can remember. I am forever grateful for the opportunity to bond with the other women in camp on this trip. We fortified friendships certain to last a lifetime.
Reminiscing with some of The WON's other columnists, it is evident that each woman had an equally memorable year.
Where was The WON in 2014? I asked the women to list 3 places and 1 memorable event.
Barbara Baird, "Babbs in the Woods"
Barbara's 2014 adventures stretched from West Virginia to New Mexico and from Louisiana to Minnesota. She hunted coyotes in New Mexico with Mia Anstine and the Little Gal, trained at Gunsite Academy and tagged her third Rio ever, thanks to Benelli in Texas.
One of Barbara's most memorable moments this past year occurred on that trip to Texas, with a new hunter in the field. "I sat in the sagebrush, beside a first-time hunter and whispered to her as the turkey came toward us — like she was in labor — to breathe, calm down, focus, steady on the bird and then … BAM! Rio down." A special thanks to Julie Golob, who made the little video that tells the story of this trip.
Christine Cunningham, "The Edge"
In 2014, Christine settled in, focusing her time on rearing a littler of English Setter puppies. "I'm not a breeder," Christine admits, "and I made the crazy decision to keep all 5 of the pups. Adventures this fall centered around re-planning trips to include a puppy." With this in mind, Christine stayed close to home, exploring her home state of Alaska. On each trip, 1 of her new puppies joined Christine – flying in to the Redoubt Bay Flats for a remote duck hunt; hunting sharptail and ruffed grouse in Alaska's interior; and flying in to the mountains of South Central Alaska to chase ptarmigan and fish for grayling.
Christine will not soon forget this past year as she relishes her recent selection as the 2014 Próis Award winner.
Michelle Cerino, "She Shoots 2"
This past year, Michelle spent time competing in the Brownell's Lady 3-Gun Match in Covington, Ga., as well as filming Gun Talk TV's First Person Defender in Baton Rouge, La. Michelle's also spent time hunting locally in Ohio, generating memories to last a lifetime. "After spending years taking my boys hunting for deer and teaching many youth through the Ohio Hunter's Education program," she explains, "I finally harvested my own. Borrowing my son's crossbow, I got my first deer, a doe. Finally I was able to can my own venison and provide a delicious meal to my family."
Anietra Hamper, "Reeling the Globe"
Anietra's 2014 adventures took her spinning around the globe with rod and reel in hand, spending time fishing for salmon in Scotland, pike fishing in Ireland and shrimping in Louisiana.
On one of her more memorable adventures, Anietra found herself in Iceland. As she explains, "My love of fishing has as much to do with enjoying the environment of the destination as it does landing a great catch. Iceland offered one of the most breathtaking backdrops I've ever experienced. Walking on a glacier as ice shifted beneath my feet and flying over an erupting volcano brought the land of fire and ice to life for me. Having that moment to feel truly in sync with my environment as I enjoyed something I love as much as fishing was magical and forever memorable."
Marti Davis, "Marti Davis Afield"
Marti didn't venture far from home in 2014, choosing to hunt deer, turkey and squirrel in southwest Missouri and southern Illinois. And, on the topic of squirrel … Marti and Babbs and Babbs' daughter competed in the World Championship Squirrel Cook-Off in Bentonville, Ark., last September and took 13th place out of 39 with their own rendition of smoked squirrel. This past year, Marti also spent time with outdoor photographer Gretchen Steele, touring southern Illinois and chasing ring neck snakes. Marti explains that Gretchen captured her in images, "holding a snake for the first and probably last time ever."
Julie Golob, "Julie G."
Julie found herself in the winner's circle in 2014. As a member of the US Ladies Production Team she joined the team competing in the International Practical Shooting Confederation (IPSC) World Shoot in Frostproof, Fla., medaling as a team and bringing home an individual bronze. Julie followed up her IPSC success taking a 1-2 sweep with fellow Smith & Wesson teammate, Randi Rogers, at the International Defensive Pistol Association (IDPA) Back Up Gun Nationals in Springfield, Mass.
Julie rounded our her year joining The WON's Barbara Baird on a duck hunt with Dirty Rice Outfitters in Gobler, Mo. Julie recalls, "After little luck with ducks, we switched gears and went after snow geese. Thanks to JD and Colton Driskill's efforts, we bagged our first snows!"
Rita Schimpff, "Bringing The Wild Inside"
When she wasn't busy decorating, Rita enjoyed both fields and streams this past year. Rita's adventures included fly-fishing the Brazos River Ranch at an altitutde of 10,500 feet in New Mexico and hunting quail in snow and ice in Corsicanna, Texas.
One of Rita's more memorable moments from 2014 included fly-fishing the Caribbean off the private island of Punta Pájaros in Mexico's southern Yucatan. "I caught my first tarpon and bonefish on a fly!" Rita explains. "The island was steeped in tradition, ancient Mayan ruins and flora & fauna galore! My dream trip."
Mia Anstine, "Mia & the Little Gal"
Mia and the Little Gal (LG) both agree that 2014 will be remembered as "a stupendous, outstanding, amazing, fantastic kind of year." LG enjoyed her first trade show, joining Mia at the NRA Annual Meeting in Indianapolis, Ind., this past spring, where she met amazing women in the industry, including the aformentioned Julie Golob.
The dynamic duo rounded out the year hunting teal with Becky Lou Outdoors, and chasing speed goats as a family. As Mia recalls, "The antelope hunt was a step up in the big game hunting world for LG. She 'walked 500 miles' and bagged a speed goat with her bow. That, my friends, is a huge accomplishment for any hunter."
Britney Starr, "Shooting Starr"
In 2014, Britney also found herself lucky enough to be hunting in South Africa (for 5 species of animals), chasing Rio Grande turkey in Texas and scouring fields for pheasant in South Dakota.
She recalled a memorable moment: "Elephant-back riding with Michelle Whitney Bodenheimer, Andrea Fisher, Cindy Grove and Julia Chamberlain while we were on safari in South Africa." As Britney recalls, "We also had the chance to feed the elephants after our ride. It's something that has always been on my 'bucket list' of things to do, and I'm blessed to have been able to share the experience with some of my closest friends."
Team WON's adventures spanned the globe in 2014. I, for one, cannot wait to see where we venture this year!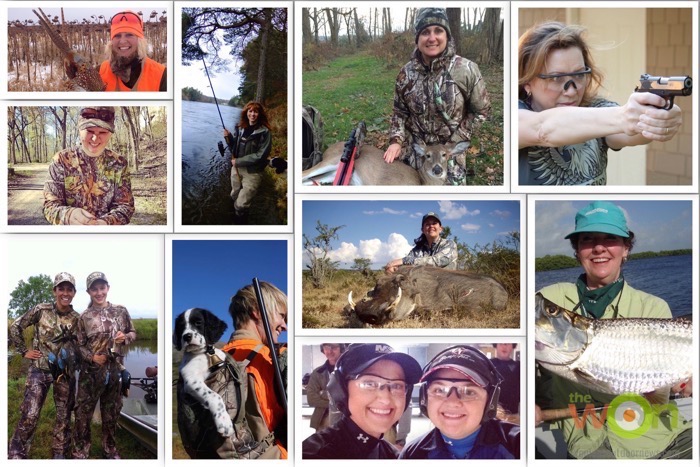 About Randi Rogers

Randi Rogers is a shooter from the top of her head down to the tips of her toes. Working as the Sales and Marketing Manager for the holster manufacturing company Comp-Tac, Randi dabbles in hunting, fishing and the great outdoors but at the end of the day she wants to have a gun in her hand. For the last 18 years as a Smith & Wesson and Compt-Tac pro competition shooter, Randi has won over 50 world and national titles in action shooting sports such as Cowboy Action Shooting, IDPA, IPSC, USPSA and 3Gun. Randi fills her days concealed carrying in a Comp-Tac Holster, spending time practicing at the range, writing for different outdoor publications and finding new ways to help other women enjoy the recreation and entertainment of target shooting. View all posts by Randi Rogers →