7 Valentine's Day Gifts for the Woman Who Shoots
What do you give to the shooting woman in your life? For women who love shooting, traditional gifts of chocolate and roses might not hit the bullseye in the target. So, while at various trade shows and throughout this past year, I've been looking for special ideas — and I give you 7 Valentine's Day gifts for the woman who shoots.
Camo Ammo Jewelry
I love jewelry – especially jewelry representing my shooting lifestyle. Camo Ammo Jewelry manufactures beautiful, custom jewelry from spent shells and bullet casings. One of my favorite pieces from the line is the "Eat Pray Hunt" .300 Win. Mag. Paisley Leather Cuff Bracelet. This stylish bracelet is the perfect accessory for almost any casual, everyday outfit, and captures the essence of my life perfectly! The multicolor paisley leather bracelet boasts two .300 Winchester Magnum bullet casings with 2 clear crystal rivets and a metal faceplate stamped with the words "eat pray hunt." The bracelet is 1-inch wide and available in a variety of different lengths, ranging from 6.75 inches to 8.25 inches. Do you have a woman in your life who prefers to shoot and not hunt? Camo Ammo also offers a complete line of jewelry for non-hunters, as well as a line of men's accessories. The complete line of Camo Ammo Jewelry, including the "Eat Pray Hunt" bracelet, is available for purchase directly from Camo Ammo's online store.
MSRP: $28.99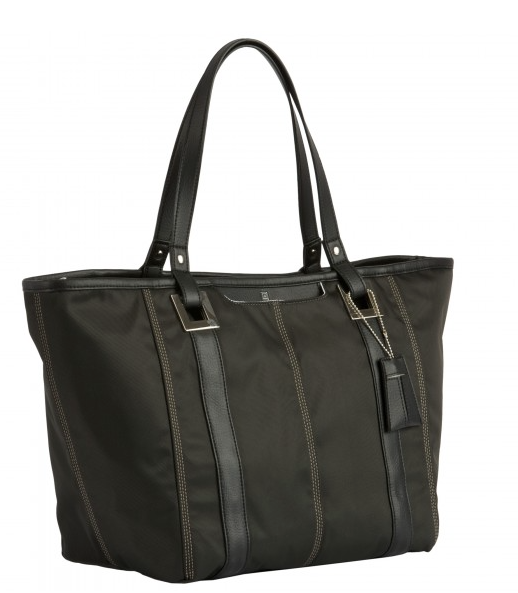 5.11 Lucy Tote
I am always on the hunt for a quality, stylish purse, especially one that offers the security of carrying a concealed weapon to help keep me safe. The purse that most recently caught my attention is the 5.11 Lucy Tote. This fashionable tote offers a wide range of tactical features for any woman choosing to carry, including a dual-zipper side pocket, compatible with 5.11's TacTec System, for concealment of a handgun. The pocket is positioned to allow quick access to the firearm. The interior of the tote also holds a concealed pocket large enough for a badge wallet or passport. One of my favorite features of the Lucy Tote is its roomy size, coupled with the fact that it is made of a durable, water-resistant nylon twill fabric. These features make the tote a true everyday carryall. The 5.11 Lucy Tote, manufactured in iron grey or military brown, is available for purchase directly from 5.11's online store and from select retailers nationwide. Click here to find the retailer nearest you.
MSRP: $109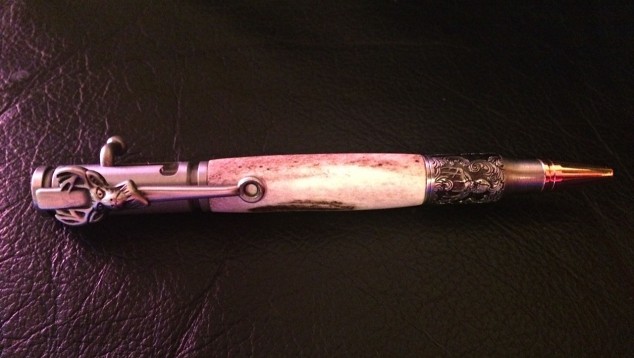 Write Stuff of AZ Deer Antler Pen
Every woman needs a stylish and classy pen, whether for writing checks at the grocery store, penning a letter to a dear friend or journaling her adventures from a recent hunt. Earlier this year, I discovered the line of Write Stuff of AZ custom pens on display in a booth at the Dallas Safari Club Convention. I quickly realized I would not be leaving their booth without making a purchase. Each Write Stuff pen is a one-of-a-kind masterpiece. I purchased a polished deer antler with a fun bolt-action mechanism for extending the ballpoint. The pen's deer-head clip and filigree detailing at the base only adds to its overall appeal. My purchase has proven itself reliable, and this unique item will likely become a family heirloom to be eventually passed down to my son. Write Stuff of AZ produces a complete line of one-of-a-kind treasures, including pens made from custom acrylic, elk antler and wood. The complete line of Write Stuff pens is available from the company's online store. Each pen accepts Parker style refills, available in rollerball and ballpoint at an office supply store.
MSRP: $75 to $80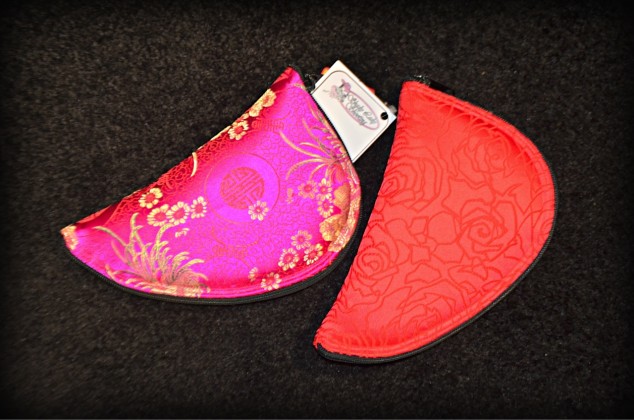 Shady Lady Shooting Pistol Cases
When I first spotted the Shady Lady Pistol Case, I did a double take. The case appeared to be a small clutch, or perhaps a makeup bag to help organize my generally messy purse. I was blown away when I realized this stylish-looking container was indeed a durable pistol case. Each pistol case is made of sturdy Cordura fabric with a half-inch foam interior to keep pistols safe and secure. Small and large cases are available in a variety of camo patterns, including purple, blue, pink, white and orange. Shady Lady offers custom fabrics to personalize each case to an individual's taste, such as the Asian-inspired fabrics pictured. The complete line of Shady Lady Shooting pistol and rifle cases is available directly from Shady Lady's online store. You can direct inquiries for custom fabric orders here.
MSRP: $14.99 to $24.99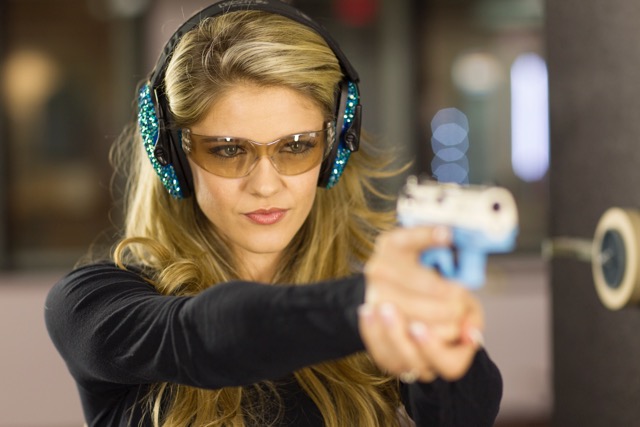 Pack'n Heat—Eyes & Ears
Most women like a little bling in their lives. The Pack'n Heat—Eyes & Ears set allows a woman to take her sparkle and shine with her to the shooting range. These custom embellished earmuff and eyewear sets, decorated with genuine Czech crystal, come with a sturdy carrying case for storage and transport. The earmuffs feature a sleek, low-profile design, limiting any interference with the stocks of most firearms. I find the padded headband and ear cushions also fit comfortably with the matching safety glasses. Weighing less than 1 pound, the Pack'n Heat—Eyes & Ears are available in a wide range of colors and designs, including solid colors, safari animal prints, ombre and camo patterns. Click here for a complete listing of where to buy these stylish accessories. Note: These earmuffs come in 25db of protection. You should determine what level of protection you need for the type of shooting and environment you'll be in, and you may need to wear earplugs with this type of muff. Category: Ear Muffs & Eye Protection.
MSRP: $175 to $199, depending on style.
Flashbang Holster
For some, a traditional Valentine's Day gift might include a little lace and lingerie. Why not include a concealed-carry holster to accessorize such intimate apparel? The Flashbang Holster is designed to tuck horizontally under the band of most bras, allowing for quick draw of a concealed handgun. Available in black or pink, the Flashbang Holster is sold in both right- and left-carry options. As Flashbang points out, "Any stylish gal will tell you that having to dress like a man to carry a gun is an unacceptable option." The Flashbang Holster allows a woman to carry concealed weapon for defense while still maintaining her femininity and style. The Flashbang Accessory Strap Sets allow the wearer to coordinate her Flashbang Holster with her bra. The straps are available in Drop Dead Red, Limed & Loaded, Berry Dangerous, Not Afraid of the Dark, Don't Make Me Teal Ya and Peacekeeper Plum. The Flashbang Holster and Accessory Strap Sets are both available directly from Flashbang's online store, as well as from a number of other online retailers. Click here to find a complete listing of retailers.
MSRP: $49.99 Flashbang Holster / $9.99 Accessory Strap Set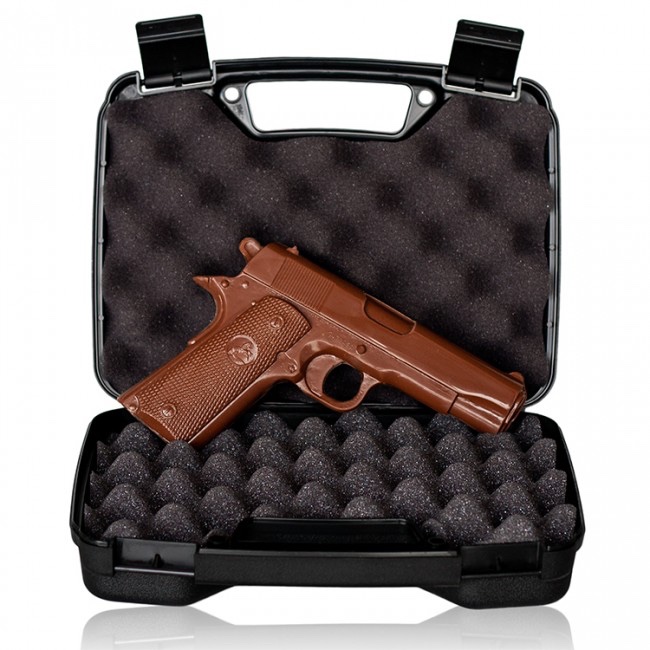 Chocolate Handgun
What would Valentine's Day be without chocolate? I, for one, love chocolate… but I also love guns. Why not combine the two? Chocolate Weapons' Solid Milk Chocolate Gun leaves no detail to the imagination. Modeled after the classic 1911 .45 ACP and made from almost a full pound of silky smooth chocolate, this delicious gun is even presented in an authentic padded gun case! The Chocolate Gun is available directly from Chocolate Weapons' online store. MSRP: $29.99
Michelle Whitney Bodenheimer found some of these products while at the Shooting, Hunting, Outdoor Trade Show, Las Vegas, 2015, and at a Dallas Safari Club convention. She did not take compensation from any companies to review or mention these products, and decided all on her own to include them in this collection of ideas for Valentine's Day.
About Michelle Whitney Bodenheimer

An experienced huntress, Michelle Whitney Bodenheimer has pursued big game, upland birds and waterfowl throughout North America and Africa. Although Michelle loves to hunt and shoot (both rifle and bow), her biggest passion in life is sharing her love for the outdoors with others. Michelle is the dedicated gear review columnist for Women's Outdoor News, in a column called "Her Gear." Michelle's writings and photography also have been published in a number of outdoor journals, including On Target, Lady Angler, The Gun Dog Journal, The Shooting Channel and African Hunting Gazette. Michelle has been a repeat contributing guest on Outdoor GPS,a live hunting and fishing television program broadcast on Comcast SportsNet NW. When Michelle is not writing, she is serving her time as an outdoor educator. She is an active volunteer for the Oregon Department of Fish and Wildlife (ODFW) Outdoor Skills Program. Her primary responsibilities with ODFW are serving as a shotgunning coach and dog handler/guide for ODFW's upland bird hunting clinics. Michelle also teaches regularly for Women in the Outdoors (WITO) and Becoming and Outdoors Woman (BOW) programs. She serves on the Pro Staff team for Cabela's, as well as for the NW Ladies Hunt Camp, an educational outreach program hosted in conjunction with the NRA's Women on Target Program and Extreme Desire TV, and is a member of the field staff for Próis Hunting and Field Apparel for Women. A current member of a number of national conservation organizations, Michelle is a life member of the Rocky Mountain Elk Foundations, as well as a life member of the National Rifle Association. She also served as a past director for the Southwest Washington chapter of Safari Club International. Take caution, however, if Michelle invites you along on a hunt. Having been stalked by a cougar and attacked by a cheetah, she tends to live life a bit on the wild side. View all posts by Michelle Whitney Bodenheimer →