Whitetail Properties and Realtree are inviting men, women and families who love the outdoors to get outside on March 7 and hunt for shed antlers and upload creative photos and videos to Facebook, Twitter and Instagram along with the hashtag, #ShedRally."#ShedRally was started so America could shed hunt together," said Michael Turbyfill, Whitetail Properties PR & Marketing Director. "The hashtag lets us show the world, in real time, how much we love the outdoors."
"At Realtree, family, friends and the outdoors are very important to us and that's what #ShedRally is all about," said Dodd Clifton, Realtree marketing coordinator. "Guy or girl, young or old, shed hunting is something anyone can do while enjoying time outside."
Last year during the inaugural #ShedRally, thousands of users uploaded photos and videos during the event. Shed hunters from the East Coast to the West Coast participated. The winning photo was submitted by an active-duty soldier stationed in Kuwait.
Throughout February, Whitetail Properties and Realtree will post shed hunting tips, tactics, and exclusive photos and videos on Facebook, Twitter and Instagram.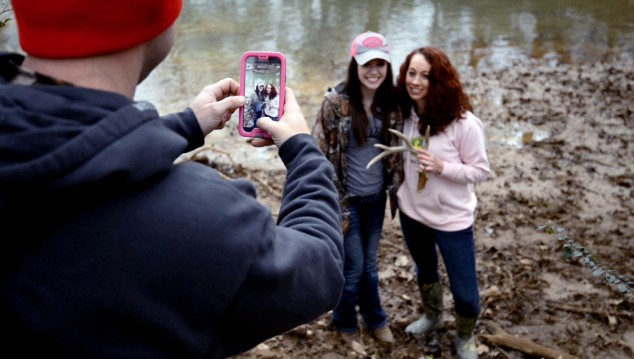 The benefits of shed hunting are endless. Shed hunting is an awesome way to learn the land, how bucks use a hunting property and what bucks survived hunting season and winter. It's a great way for family and friends to exercise and enjoy a few hours outside. Shed hunting also is the perfect time to teach young hunters about deer sign and scout for the fall.
To top off the event, Whitetail Properties will judge all uploaded photos that use the #ShedRally hashtag and pick the most original and creative users to win prizes from Whitetail Properties, Realtree, Scentlok, Buck Knives and Legendary Whitetails.
For more information about #ShedRally – The World's Largest Shed Hunt, visit Facebook.com/WhitetailProperties and Facebook.com/RealtreeOutdoors.
About Whitetail Properties:
Founded in 2007, Whitetail Properties Real Estate has exploded into North America's top place to buy and sell recreational hunting, ranch and farm land. This fact was cemented last year with more than $320 million in sales and being named one of "America's Best Brokerages" by The Land Report. Whitetail Properties has expanded operations into 20 states and counting, enlisting a staff of hard-working, knowledgeable and passionate Land Specialists. The team currently averages a farm sold every day throughout the year.
Whitetail Properties reaches more than 31 million households with Whitetail Properties TV, an award–winning show on The Sportsman Channel that showcases the benefits of owning recreational real estate.
To browse prime hunting and farmland currently for sale or to contact a Whitetail Properties Land Specialist, visit WhitetailProperties.com.
About Realtree:
Realtree is the world's leading camouflage designer, marketer, and licensor with over 2,000 licensees utilizing the Realtree camouflage brand. Thousands of outdoor and lifestyle products are available in Realtree camouflage patterns. In addition, Realtree is committed to supporting individuals and groups that work to ensure our outdoor heritage, the conservation of natural places, and the wildlife that resides there. Realtree promotes its products and relationships widely on television, as well as through Realtree.comand many other outlets.