5 Pieces of New Gear for Turkey Season 2015
Marti Davis Afield recently spent 2 days in Nashville at the National Wild Turkey Federation's Sport Show and Convention, searching for some cool new products to take out with her this turkey hunting season.
Here are 5 pieces of gear that I am looking forward to using this coming spring turkey season. I found each of these items while scouring the floor of the NWTF's convention at Gaylord Opryland Hotel in Nashville, Tenn. Babbs and I are looking forward to mentoring a new hunter, a mom of 3 girls, in the turkey woods this season. We hope she'll love the tradition, as we do, and that next year, we'll be in the woods with 4 new hunters and probably with a lot of this gear, because I know I'm going to like it.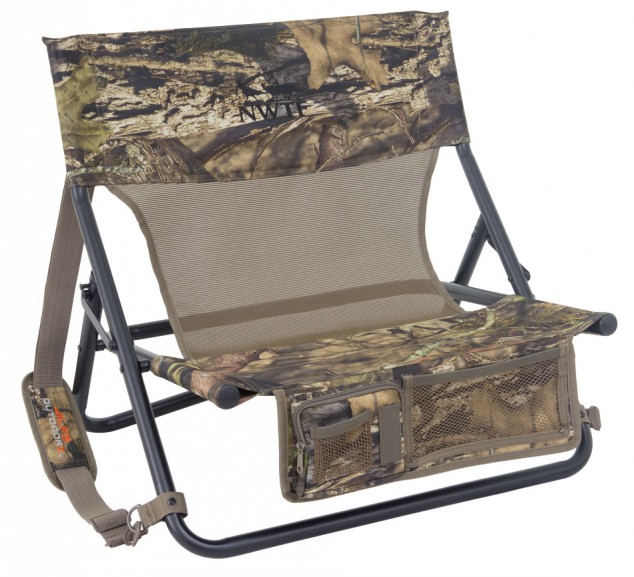 ALPS OutdoorZ Turkey Chair MC
Being comfortable in the turkey woods can make or break a hunt. The ALPS OutdoorZ Turkey Chair MC looks like it can make a long sit pretty comfy. ALPS designed this wider version of its original Turkey Chair with More Comfort (MC) in mind. The 4-inch addition to the seat boosts the final measurement 23-inches wide by 12-inches deep and 21-inches high. It folds flat for easy transport with the sling and weighs a mere 8 pounds.
The Turkey Chair MC comes in Mossy Oak Break-Up Infinity or Realtree Xtra and it's NWTF approved.
MSRP: $49.99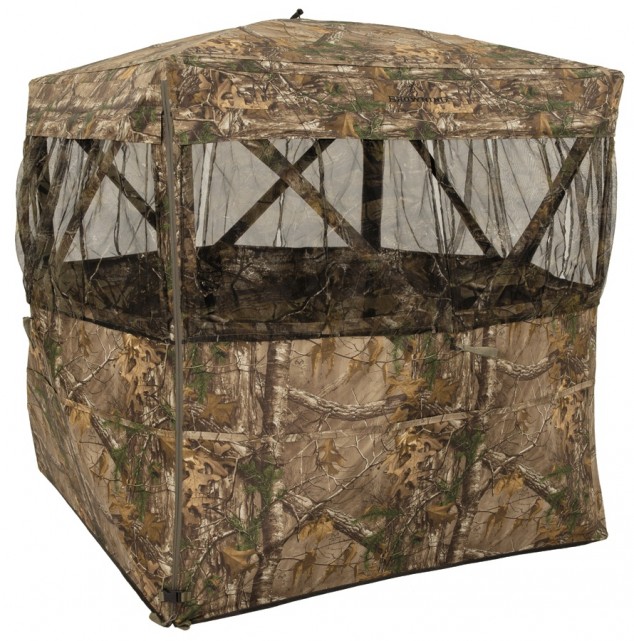 Browning Mirage Hunting Blind
Hunting those sharp-eyed turkeys can be quite difficult; hunting them with a bow even more so. A good ground blind can tip the odds in your favor and help cover the necessary movements when you decide to draw back back to make that important shot.
Hunting from ground blinds isn't new to me and the blinds I've hunted from typically did their job. The Browning Mirage has some features that really caught my eye, though.
All of the windows can be opened and adjusted to various positions via the SILENT-TRAC window system
The 360-degree curtain style viewing uses a heavier-than-normal mesh material that slides quietly, rather than those dreaded noisy Velcro closures
A bow hanger is included along with a durable carry bag with shoulder straps for transporting.
MSRP: $199.99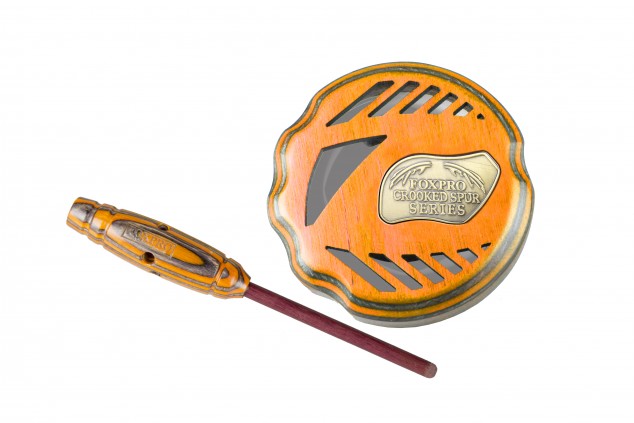 FOXPRO Crooked Spur Series
FOXPRO is known for its predator calls and new for Spring 2015 it unveiled its Crooked Spur Series line. This collection includes pot calls, box calls and diaphragm mouth calls.
While I use multiple types of turkey calls, the pot style friction calls have always been my favorites. I am looking forward to see how those big old long beards will respond to the sounds of the Knuckle Puck Orange pot call. This call is a solid one-piece wood body, glass-over-glass call with an ergonomic shape and unique finger grooves. I know when I tried these in the convention hall, they sounded pretty sweet. I can only imagine how much better they'll sound in the turkey woods.
The Extreme Striker that comes with the Knuckle Puck has a built-in predator reed for those unfortunate times that your turkey hunt suddenly turns into a predator hunt (Of course, that is if your state's hunting regulations/laws allow). Another great bonus is that these calls are made in the U.S.A.
MSRP: $99.95
Montana Decoy Co, Miss Purr-fect
Last spring I had the chance to use some Montana Decoys during spring turkey season and this spring I can hardly wait to put this life-like Miss Purr-fect 3D hen decoy in the field. This 3D decoy compresses to a compact 9 inches by 13 inches disc-like shape and then, when you need her, she expands to full 9 inches by 35 inches size in seconds. The feather-cut fabric makes for a very realistic look and movements.
Miss Purr-fect uses Perfect Pose Technology, which means you can pose your decoy to suit your needs. You can choose one of 2 leg pole slots to pose the hen either as a feeder or as a lookout. Wire construction of the head also allows for multiple positions.
Weighing in at 1 pound, 6 ounces, this decoy won't be weighing your turkey-hunting vest down.
MSRP: $49.99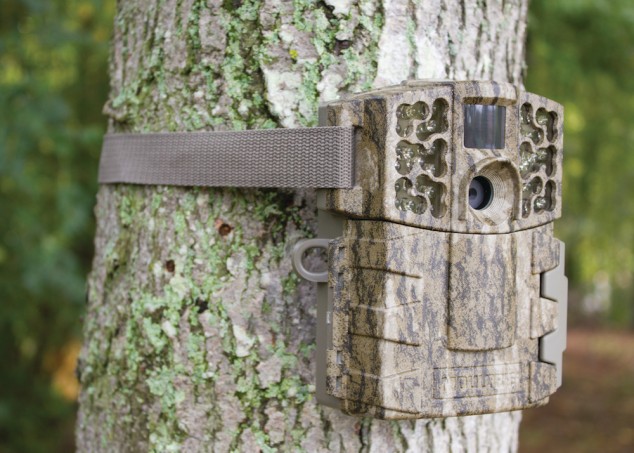 Moultrie M-880 Gen2 Mini Game Camera
Everyone knows I am a fan of Moultrie game cameras. What I saw at the Moultrie booth really piqued my interest. It has taken the workhorse of its mini-game cameras and made it even better in their new M-880 Gen2 mini game camera.
Some of the improvements that I am really happy to see and test out include the following:
Enhanced image quality
Improved battery life
Quick-Start setting (you simply set the date & time)
Up to 100-feet of nighttime illumination range
Improved weatherproof case in Mossy Oak Bottomland camo
You can bet I will be putting these new cameras to the test and keeping tabs on my turkey flocks in preparation for the upcoming spring season.
MSRP: $149.99
While there were literally thousands of products to check out at the NWTF convention, these are simply a handful that I think will help me put my tag on some spring gobblers. We'll keep you posted through out social networks, as we go afield for some big old toms.
Follow us on Facebook, Twitter, Instagram and Pinterest.
About Marti Davis

Marti Davis is a staff member for Browning Trail Cameras, WoolX and Mossy Oak. She is an authority on most types of hunting in North America, and very active in mentoring the next generation of young hunters. View all posts by Marti Davis →