NWTF and Powderhook Release Gobble Map App
EDGEFIELD, S.C. — Turkey hunters are now able to check turkey activity and sightings in their local area thanks to the Gobble Map from the National Wild Turkey Federation (NWTF) and Powderhook.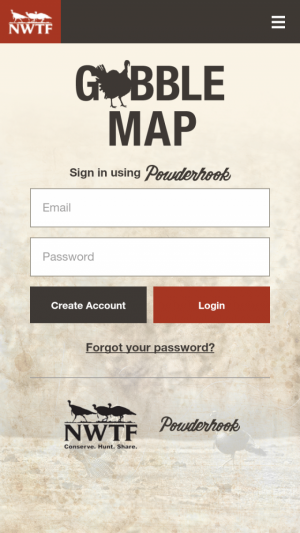 "Powderhook and the NWTF are working hard to provide some of the most reliable and relevant information to the modern hunter," said Eric Dinger, Powderhook co-founder and CEO. "Hunters already can view public land property boundaries in their area and they can now research and provide information about turkey activity in their local area."
The user-driven Gobble Map, released on March 23, through Google Play and Apple app stores, allows users to post and view turkey sightings with information about gobble frequency and size of the turkey flocks.
Users don't have to worry about giving up their hot spots, because the interface provides anonymity and location buffering.
"Hunters play the biggest role in conservation efforts across this country through purchasing licenses, firearms and ammunition," said Doug Saunders, NWTF executive vice president of marketing and development. "These days, a hunter may only have limited time to prepare for and plan a hunt. We want to ensure they have the greatest opportunity for an enjoyable time in the woods, so they continue to carry on our hunting heritage."
ALPS Outdoorz, Yamaha, Federal Premium Ammunition and Nationwide also are partners in the Gobble Map project.
To view or download the Gobble Map, visit the following links.
Web Interface: www.gobblemap.com
Google Play (Android): https://play.google.com/store/apps/details?id=com.phonegap.gobblemap
Apple App Store (iOS): https://itunes.apple.com/us/app/gobble-map/id975910406?ls=1&mt=8
About Powderhook
Powderhook's mission is Access for All. That means access for new hunters, anglers and shooters; for parents and their children; for neighbors who haven't been out in the field for years; and for you. Powderhook works with the nation's leading conservation organizations, retailers and manufacturers. The Powderhook platform is bringing our industry together to solve some of its most important problems.
To learn more about Powderhook, visit www.powderhook.com
About Save the Habitat. Save the Hunt.
The NWTF Save the Habitat. Save the Hunt. initiative is a charge that mobilizes science, fundraising and devoted volunteers to give the NWTF more energy and purpose than ever. Through this national initiative, NWTF has committed to raising $1.2 billion to conserve or enhance more than 4 million acres of essential upland wildlife habitat, create 1.5 million hunters and open access to 500,000 acres for hunting, shooting and outdoor enjoyment. Without hunters, there will be no wildlife or habitat. The NWTF is determined to Save the Habitat. Save the Hunt.
To learn more about the NWTF Save the Habitat. Save the Hunt. initiative, visit www.nwtf.org.
About The WON

The Women's Outdoor News, aka The WON, features news, reviews and stories about women who are shooting, hunting, fishing and actively engaging in outdoor adventure. This publication is for women, by women. View all posts by The WON →