Vera Koo: Lightning Strikes Twice
Vera Koo knows that lightening can strike twice, especially when it comes to accidents when you're active. Read about her recent skiing accident and how she, once again, prepares to recover so that she can shoot competitively in a record amount of time.

Sponsored by Vera Koo
I'm a firm believer in destiny: things that are meant to happen will happen.
The year 2013 was difficult. Not the most difficult year of my life, but certainly amongst the most life-changing ones. After spending months in rehabilitation, regaining my ability to walk, shoot, and compete, my 2015 strategy was set with dozens of competitions, shoots and training sessions in preparation for the Bianchi Cup in May.
On January 1, however, my carefully planned path took a detour.
Spending the New Year at Squaw Valley in Tahoe is a family tradition and this year, my daughters, granddaughters, son and husband joined together for a few days of skiing and celebrating. We've been skiing Squaw for 30 years and have all become expert skiers. I no longer jump off cliffs or climb to ski unmarked trails, but otherwise, together, we stare down double black diamonds, Squaw's famed KT-22, Olympic slopes and Headwall Face. As such, imagine my surprise when our group of 10 disembarked from what would be my first and final chair lift of the day. I was skiing on high tech parabolic rental skis that are shorter than my typical long skies. So when my granddaughter skied to my right, crossing in front of our group as she attempted to control her tips, my own skies crossed the back of hers and in a bizarre and disastrous collision, my skies wedged between hers, and we crashed to the ground.
She bounced back up.
I dimly recall screaming out in pain as I heard a symphony of pops and grinding bone, as I felt searing pain in my hip.

I was certain that my lower leg was being torn out of my body.
As my daughters, both of whom were former competitive racers, attempted to undo my boot bindings, I lay sprawled on the ground until the pain cleared and I could focus on the reality of the situation. The post-lunch skiing crowd streamed around me as they attempted to exit the chair lift and the noise was thunderous as someone in the crowd said that the ski patrol was en route. I nearly laughed at the absurdity of this: after skiing for 40 years, I have never taken ski patrol down the hill. Yes, I've had a few spectacular falls – but never so remarkable as to require such mortifying assistance.
As I didn't want to ruin their weekend of skiing, I told my daughters and their friends to go ahead and continue skiing — but they insisted upon waiting until ski patrol arrived. Within minutes, ski patrol was asking me to stand up solely on my left leg. When I crumpled back down to the ground, unable to bear any weight, it was diagnosed as a torn ACL and suddenly I was being tucked into the ski patrol toboggan.
I'm certain that I've never flown down a mountain so quickly as that toboggan ride. But even with the short ride, my mind was working overtime — seeking reason, understanding and appreciation for my current situation. I was out of shape, I thought. Due to my trip to India, I hadn't worked out regularly in months.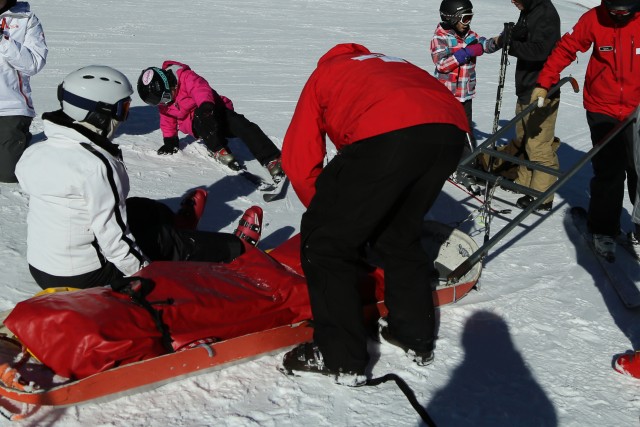 Other thoughts flew through my head: This was my first run in several years. I was worried about my family. Were they still going to have a good time? At least it was my injury and not my granddaughter's or my husband's. At least I've been in this situation before and I know that I can handle rehab. It would have been excruciating for my husband or granddaughter. Nothing is forever, I told myself. My life has been very balanced: I've had so many good things happen and so many balancing events.
Remembering the very best times is the only way for me to live.
In that moment of acceptance, as I bounced down the mountain, bundled like a toddler, my future also hit me: the cold reality that after a full year of successful rehab, I was back to square one. I couldn't walk, let alone go prone. So, the Bianchi Cup 2015 was immediately crossed off my list, as was my dream of shooting the World Action Pistol Championship in Rome 2016. As these thoughts crowded my aching head, the toboggan came to a sudden stop and ski patrol unloaded me at the Squaw Valley clinic, a veritable sports medicine assembly line: on a good day they might see 50 torn ACLs.
Two doctors came to my aid as I told them that I was a competitive shooter and planned to compete at the national level in 2015. They offered the pros and cons of surgery, timing, effects and rehab and quickly outlined a calendar: 6 months to normalcy, 9 months to full force.
Perhaps we are realistically looking at a full year to recovery at my age, but I've been here before.
I'm determined to see you all at the Bianchi Cup this May. Things happen for a reason, perhaps I'm supposed to slow down. But, on the side of my competitive edge and the forefront of destiny: It could've been worse. After all, I could have just as easily torn my right ACL, which, due to my previous surgery, might have never seen full recovery. At least this time I'll be rehabbing my left leg.
See you in May!
About Vera Koo

Vera Koo is a first-generation Chinese American woman. She's a wife and mother, author, entrepreneur and retired competition shooter. Along with two published books -- "The Most Unlikely Champion" and "Wisdom and Things: Essays From an Unlikely Champion" -- she writes her column, Vera Koo, at "Women's Outdoor News." View all posts by Vera Koo →