Review: The Kimber Micro-Carry — Another Great Carry Option for Summer
Our Babbs and Stacy Bright hit the range last spring with the Kimber Micro-Carry.
It's beefy, but not chunky. Think the filet mignon of 1911s. Think hot summer weather and you're carrying a cool, lightweight mini-1911, chambered in .380 ACP. Think the Kimber Micro Carry.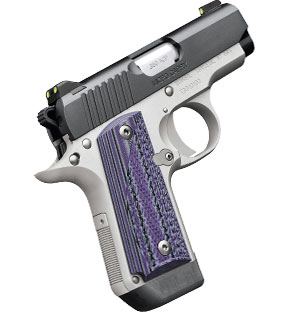 Kimber sent me two versions of its micro carry gun to review, the Advocate (in purple) and the Crimson Carry (with a laser, of course). Hornady Manufacturing, Inc., and PHD Ammunition provided hundreds of rounds of ammo for a morning of testing, so I set up the Oehler 35P chronograph 6 feet from the muzzle and fired away, before stepping up to fire at targets in real-life scenarios. Kimber did not skimp on anything when it designed this model. Even though it is small, it exhibits the fine genetic traits of the Kimber 1911 line such as a lowered and flared ejection port, a beveled magazine and steel sights mounted on machined dovetails. The Micro also resembles its older family members, presenting a strong 1911 characteristic – especially when it comes to the thumb safety, slide and magazine releases.
Just as with other Kimbers, the plunge trigger works like a dream, with a short and oh-so-smooth pull. This firearm weighs in just under 14 ounces, with a barrel length of 2.75 inches and twist rate of 16. Its matte black finished slide is machined from stainless steel, which is another reason it's a cool gun for hot-weather carry. All the Micro frames come constructed out of aluminum and finished in satin silver, and sights are made from steel, which means there's no plastic that can break off in a quick-draw moment.
About The WON

The Women's Outdoor News, aka The WON, features news, reviews and stories about women who are shooting, hunting, fishing and actively engaging in outdoor adventure. This publication is for women, by women. View all posts by The WON →