Armed and In Charge: Three CCW Holsters that Work for Me
In this installment of the popular series "Armed and In Charge," Stacy Bright details why she likes 3 CCW holsters, after extensive research into the subject matter.
If you're like most gun owners, you probably have a drawer, box, or maybe even closet full of holsters. And if you're like me when I first got my concealed carry (CCW) permit, I went looking for a holster that would fit me and conceal the firearm. I had no idea what to look for, ended up purchasing various ones over the next few months, and really didn't love any of them.
Fortunately, there are more options now than there were when I got my CCW permit, but that makes it even more difficult to decide which one to buy. Of course, that's how we end up with a bunch of holsters, and only a few (if we're lucky) that we really like or that work with our body types.
In case you haven't noticed, women have curves; men don't. Therefore, we have to work harder at concealing a firearm, and the traditional holsters that work for a man don't necessarily work for us ladies. According to a recent survey of women, 40% said that they prefer to carry inside the waistband and 25% said outside the waistband or in a bellyband holster. Since the majority carry on body, near their waists, I've chosen 3 holsters that you might consider if you're looking for a concealed carry option.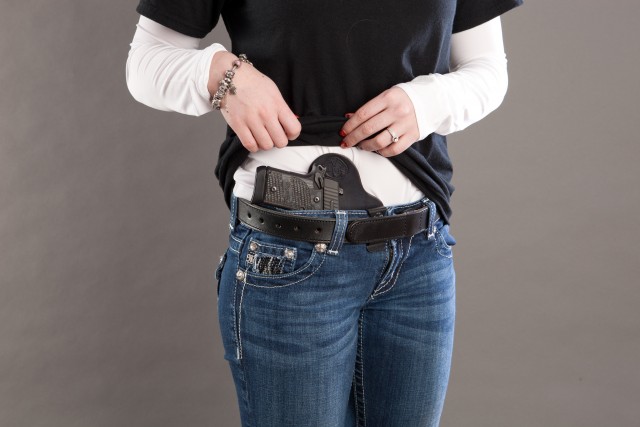 Crossbreed's Women's Appendix Carry Holster — This holster is made with thin, soft leather that easily forms to a woman's curves. From the moment I started wearing it, it felt like it was made specifically for me. It didn't need the typical "break in" time for it to be comfortable. The Kydex pocket is formed to each specific firearm providing excellent retention. The appendix holster works great for small to medium-sized firearms. It also covers the trigger guard, allows me to grip the gun while still in the holster, and almost completely disappears under a t-shirt! Crossbreed also offers a "Two Week, Try it Free Guarantee" and a Lifetime Warranty, not to mention excellent customer service. This one's a winner in my book. ($59.99)
My next choice is from Flashbang Holsters, the Betty. One of the main reasons why this holster is a good choice is that it's versatile. It can be worn anywhere inside the waistband, either appendix carry, cross-draw, or behind the hip, or even on the top of a cowboy boot. The slim profile allows it to be easily concealed and also very lightweight. Another great feature is the metal clip, which is strong and stays clipped to the belt well. The manufacturer even says that you could wear this holster without a belt if you chose to, although I personally don't prefer to do that. This is another company that understands how to build holsters for women and has excellent customer service. ($49.99)
My third choice is one that initially I would never have picked by just looking at it – the Sticky Holster. Several of my friends have one for their concealed carry guns, but I was skeptical due to it not having a clip or something to attach it to a belt. Boy, was I wrong. The outer surface of this holster has a tacky, but not sticky to the touch, feel to it. The neat thing is that you can wear it in any position on your waist, deep concealment or not, and adjust the cant to whatever is comfortable for you. It stays in place inside your waistband, right where you position it. I even tried it while wearing my pajama pants, which have a drawstring, to keep them up. It stayed put. Really.
Now I can sit around in my pajamas more often, and have my firearm on my body at the same time.
I tend to look for holsters that I can carry on my belt, or at least around my waist. Ease of access is a big reason. I don't want to be fumbling around in my purse, or trying to get to my gun on my ankle, if I'm in a situation that would require drawing my gun quickly. Finding a "perfect holster" is unreasonable for every situation and finding that "one size fits all" won't happen. However, with research, the proper practice, and clothing selection, you should be able to find one that quickly becomes your favorite.
Tell us, which holster do you prefer for CCW and why?
About Stacy Bright

Freelance writer Stacy Bright holds instructor certifications from the NRA in Pistol & Rifle, as well as being an Range Safety Officer and Refuse to be a Victim instructor. In addition to her NRA credentials, she also is a Missouri CCW instructor and teaches various other home and personal defense courses. "In a field dominated by men, I feel I bring a unique perspective to firearms and training, especially to women. I'm passionate about educating, empowering and developing confidence in those I train. In November of 2014, I started the Southwest Missouri chapter of The Well Armed Woman," said Stacy. Stacy lives in southwest Missouri, and has been married for 20 years. Visit TWAW Facebook page: The Well Armed Woman-Springfield, MO Chapter. View all posts by Stacy Bright →