Teal Hunt 2015: Making Marsh Memories
Find out what Mia Anstine took away from this year Teal Hunt for Tenacious Women 2015, along with her limit of teal — in short, marsh memories.
What kind of stories do you want to share with your children and grandchildren? I remember my great uncles sharing stories about chasing big bucks through the Rockies with my great grandfather. I used to think, "Wow, were they lucky."
Scroll forward several-some-odd years and now I'm the one creating hunting memories. I get to share experiences with my Little Gal (LG) and know she will tell stories to her children and grandchildren someday.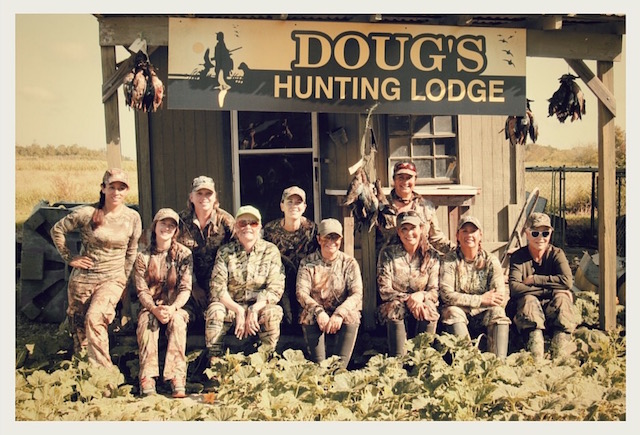 Last week, LG and I attended a #GirlsHuntOut. This hunt, planned and coordinated by Becky Lou Lacock, of BeckyLou Outdoors, is an annual event at Doug's Hunting Lodge in Gueydan, La. We, along with a number of other women, stayed at the fabulous L'Banca Albergo Hotel in Lake Arthur between hunts. While there, Marion Fox, from the Jeff Davis Parish Economic Development & Tourist Commission, treated us royally to other activities – such as getting to learn about and hold baby alligators, pontoon boat ride and lake tour and for the adults, a rum distillery tour.
Why a hunt for women only?
Women's hunts are a great time for bonding, developing friendships and experiencing different communities, cultures and hunting methods. Through these hunts, LG has met women who serve as mentors, role models and inspirations.
When I asked LG how she felt about this year's hunt, she validated the reason I invite her to come along.
I learned that it really isn't about the number of birds you shoot or who your guide is. It's not about who did better. It's about getting away from what you were doing. It's about having fun with a group of women who inspire you and remind you of why you are doing what you are doing. I also learned about a lot of types of waterfowl, how to call and how other people live and hunt.
She is spot on! I also enjoy the beauty of the marsh. If you've never been there, you need to experience it firsthand.
What I'm referring to is the humming of the boats as you motor in before daylight, viewing sunrise through the reeds, attentive guides who search the air everywhere, the splash of a fish as it jumps for a skeeter, a watchful dog, the squealers' (species of duck) rants, a red hornet's buzz, catching movement from the corner of your eye to find out it's only a dragonfly, and the list goes on.
The SWOOSH of the "mini-F14's" (aka, teal) as they fly in from behind the blind, the whisper from the guide as he says "Get ready!"
And there's more … the swooshing sound again as the flock of teal, in perfect formation, bank a turn. Then they traverse from the side of open water to the other. Suddenly they're in front of the blind! They make another bank turn. Just as they tip their wings up, "GET 'EM!"
"BOOM! BOOM! BOOM!"
The lead up and follow up, to filling our limits are priceless. The stay in the blind is short but relief from the heat and pounding sun is appreciated.
When the hunt is done, we take time to visit and participate in local activities. A pontoon ride on the river, visits from baby gators, and of course a Cajun cook out, courtesy of the Meaux brothers.
We are pleased to have stories for days but we'll be telling them for years to come.
Follow Mia Anstine at MAC Outdoors, for more stories about her (and LG's) adventures.
About The WON

The Women's Outdoor News, aka The WON, features news, reviews and stories about women who are shooting, hunting, fishing and actively engaging in outdoor adventure. This publication is for women, by women. View all posts by The WON →