Common Sense Tips on Guiding a New Hunter
An acquaintance recently asked me about taking his girlfriend on a hunt. She had mentioned to him that she wanted to try hunting, but wasn't sure which animal she wanted to hunt. This isn't the first time I've been asked about this topic. I put together some tips on guiding a new hunter that make common sense.
For new hunters, I usually recommend hunting for spring turkeys or fall squirrels. The spring isn't too cold, and if you're in an area with turkeys, they'll put on a show, which can definitely get a new hunter hooked. The same goes for squirrels: It's a nice, leisurely stroll through the woods, watching and listening for squirrels hopping from limb to limb, with treetops shaking and cuttings falling. It's a true lesson in woodsmanship.
You don't have to be an official hunting guide to be qualified to guide a new hunter afield. Here are some tips for experienced hunters on mentoring a novice. Always follow the regulations in your state or location where you'll be hunting, and make sure you know the rules regarding mentoring, too.
Equipment
Before the hunt, take the time to familiarize the new hunter with the firearm or bow that she'll be using. Spend time pointing out the different parts of the gun or bow, and what they do. Use the proper terminology for those parts.
Take time to show the novice hunter the proper fundamentals of shooting and practice with her at the range. Make sure she's comfortable with the firearm or bow, and that it fits her. Don't give her a large-caliber rifle or shotgun bigger than what she needs or might be used to.
When practicing at the range, set up different shots that replicate a hunting scenario. She should be comfortable shooting from sitting, standing and kneeling positions. The more time you spend together at the range, the more comfortable she'll be in a real hunting situation.
Comfort
Make sure she has hunting clothing and boots that fit her. Also be sure she's dressed for the weather conditions. The more comfortable she is, the better her overall experience will be—and she'll be able to sit more quietly, and for longer.
Make sure that she has snacks if you're going to be sitting for several hours. Give her some ideas on snacks that are "hunt friendly"— i.e., quiet and with little scent. Don't bring snacks in noisy foil packaging; put them in a plastic baggie beforehand.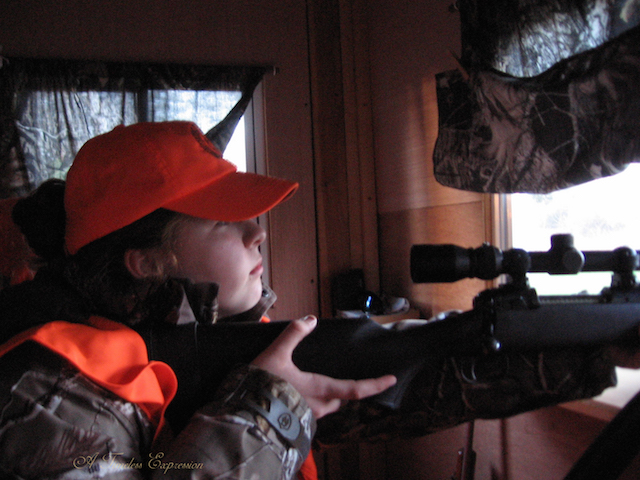 Involve Her
On the hunt itself, don't do every little thing for her. Give her some of her own responsibilities, such as having her own pack with calls, binoculars, gloves and such. If you have multiple stand locations, explain which stands might be better due to the wind or time of day, but let her choose which one she wants to hunt. Get her involved as much as possible.
Patience
This goes for both you and the new hunter. Explain that a good hunter has to be a patient hunter. On some hunts it might be hours before you see game, while on others it might take minutes. Sometimes you might not even see anything. The more patient and still she is, the better her chances of seeing game.
You're going to have to have some patience also. A new hunter will likely have lots of questions; remember, something that might seem second nature to you may not make any sense to her.
For example, you might have game come out and get to within your comfortable range, but the new hunter may not be comfortable with that range. She might not even be comfortable with taking a shot at all. That's fine; don't ever pressure anyone to take a shot. Just be glad that she is getting to experience hunting and the outdoors, even if she just wants to shoot a picture instead of a gun or bow.
Online resources
There are numerous resources available online. First I would recommend reading the great articles at the Women's Outdoor News, especially Christine Cunningham's 5 Ways to Get Started Hunting. Also, check out Squirrel Hunting for Beginners, which I wrote last fall.
If you have someone who thinks she wants to try hunting, ask her to come along and observe one of your hunts. That might just be the little nudge she needs to jump in and join you in the outdoors.
About Marti Davis

Marti Davis is a staff member for Browning Trail Cameras, WoolX and Mossy Oak. She is an authority on most types of hunting in North America, and very active in mentoring the next generation of young hunters. View all posts by Marti Davis →