Dear Santa: Ideas for Shooting-Related Stocking Stuffers
Who can believe that it's almost the holiday season again! I don't know about you, but I've been a good girl this year! I've made out my list for Santa, and thought I'd share some of my top picks for stocking stuffers for your favorite lady shooter.
You might even want to include them on your own list for Santa, assuming you've been good this year, too.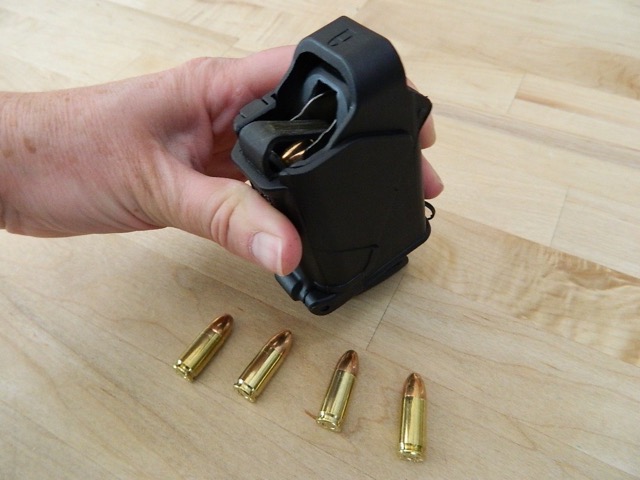 Magazine/Speed loader: Whether you shoot a revolver or a semiautomatic, a magazine/speed loader can make quick work of loading your magazines (or chambers if you're a wheel-gun gal). Available from several different manufacturers, make sure you select one appropriate for the caliber you're shooting. Some are universal and can handle anything from 9 mm to .45, but they generally do not work for .22 lr because of their tiny size. These thumb-saving devices will be a welcome addition to any gal's range bag; especially in the colder months when loading your magazine can make you feel like you're thumbs may fall off. (Magazine loaders generally run $35 or less, and speed loaders for revolvers are around $10)
Laser: If you're looking to splurge, consider picking up a laser. Specifically designed for almost any firearm, lasers make great gifts whether she shoots a pistol or a rifle. Designed to enhance accuracy, a laser puts a beam of light wherever you are aiming. Great if you're in a self-defense situation, and extremely handy when performing dry-fire practice. Lasers are generally available in red or green, both with advantages, so take a read-through what the manufacturers say and select the laser that will work best for you and your firearm. Small enough to fit in a stocking, a laser will run you on average of $150.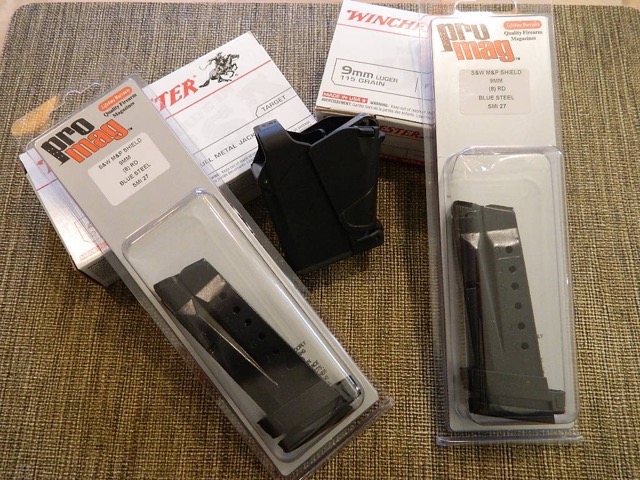 Extra magazines: Who doesn't need more magazines! Having spare magazines whether you compete or plink, can save you valuable time when you're at the range. Most competitive shoots require a minimum of 4 to 6 spare magazines. Even if you're not considering competition, having extra magazines for your go-to handgun will make sure you have enough ammunition ready to go should you need to use your firearm. And by using a magazine loader as I've described above, you'll be loading quickly and efficiently should you need to! I've found magazines generally run from $20 to $35 each.
Ammunition: What gal wouldn't love a box or two of her favorite ammo? But be careful, ammunition is heavy; we don't want your stocking falling off the fireplace in the middle of the night, causing a ruckus! Instead of putting it in her stocking, you could add an ammo-can tied with some pretty ribbon and a bow! Prices will vary by caliber and quantity.
Multi-tool: I'll admit it; I'm a sucker for a good knife! A multi-tool is like a pocket-knife on steroids. Many models have not only blades, but screwdrivers (flat and Phillips), a punch, and many times even a corkscrew (for use after range time only!). Manufacturers now make multi-tools specific for shooters that contain not only basic tools normally found on a good multi-tool, but also a gun pin punch and even choke wrenches! The gift of a multi-tool is something she can use on and off the range, year-round. Multi-tools vary widely in price, but a decent one that is specifically made for a shooter can generally be picked up for around $25; the price goes higher depending on how many separate functions the knife can perform.
Targets: Don't get me wrong, I'm perfectly happy shooting at a paper plate, but there's something about shooting at a reactive target that really increases the fun value! If your shooter is thrifty and doesn't often spend good money on "real" targets, why not stuff a package in her stocking this year. Targets can be picked up pretty much anywhere that sells firearm supplies, including most discount retail stores. Prices vary by how many targets are in the package, but prices generally range in the $5 to $15 range.
Shemagh: Popular with the tactical set, a Shemagh is a type of desert scarf worn mainly in the Middle East, but it's so practical that shooters should be familiar with it and carry one. This woven textile is similar to a scarf, but is work for sun protection, dust protection, worn wet it will help keep you cool, worn dry in the winter it will help keep you warm. The larger size (generally 40 x 40 inches) can be folded many different ways for different purposes. A quick Google search can show you how many ways you can wear one, as well as the million other ways to use it when you're not wearing it! Shemaghs are available in beautifully woven patterns and solid colors to suit anyone's taste. (Generally under $20, sometimes under $10.)
Bullet-casing jewelry: Who doesn't like a little bling! Repurposed, recycled spent casing jewelry is wildly popular with the ladies. Anything from earrings and rings to necklaces and bracelets can be hand-crafted and customized. Available in many sizes and color combinations, you can even personalize the jewelry with your favorite shooters birthstones. Check out the lovely work from Camo Ammo Jewelry. Finely crafted, Lisa Glassburn creates lots of choices – several are priced under $20 with many under $10. Or, visit Pretty Hunter, where Tricia Auten is offering several beautiful dog tag necklaces filled with bling and brass.
The possibilities are endless, but at the end of the day you'll want to get her something she can use and that she wants. Keep those ears open, because if your shooter is like me she's already dropping hints! And, if you're the shooter, print this out and leave it around where your partner will find it. Circling a few ideas may just help drive the point home!
If you have an idea for a great stocking stuffer, tell me about it in the comments below! Happy shopping and happy holidays from all of us here at TeamWON.
About Annette Doerr

Annette Doerr is a freelance outdoor writer and business services consultant living in suburban New York. This married mother of two is an NRA Certified Pistol Instructor and Range Safety Officer. Annette is not only passionate about the sport of shooting, she also loves helping new shooters get involved, especially women and teens. An active equestrian, she enjoys riding her American Quarter horse, Cody. She volunteers in greyhound rescue and adoption, and shares her home with Casper, a rescued racing greyhound, along with her her cat, Tony, and her husband, Bob. Visit Annette at WeShoot2.com, her personal blog. View all posts by Annette Doerr →