Retro WON: My First SHOT Show: 5 Things that Surprised Me
Guest writer Stacy Bright attended her first SHOT Show this year, and narrows down her list to 5 things that surprised her.
For those who might not know, SHOT show is the shooting, hunting, and outdoor trade show that's held annually for those who have professional affiliation to the trade. I was eligible to attend as a media professional, due to co-hosting a local radio show in my area. In addition to being a radio co-host, I'm also an NRA firearms instructor and leader of our local chapter of The Well Armed Woman. With this being my first year to attend SHOT show, I had numerous expectations and ideas of what it would be like. Even with plenty of research and planning, there were several things that were unexpected.
How big it really is!
Type "SHOT Show" into your Web browser and you'll notice one of the first details mentioned is how enormous this trade show is. However, no amount of written description can properly prepare you for the actual event. Some booths were like a miniature showrooms with walls, stairs, and tall structures, and many had banners or signs overhead that were just as large, not to mention having a life-size helicopter hanging above one! I had studied the educational seminars, exhibitor booths, and even had a game plan of how to best tackle 12.5 miles of aisles, yet still left wishing I had a few more days to see it all!
Accessibility of people
Among all the exhibitors, speakers, and other industry professionals, not one was rude to me when inquiring about their products, or just asking to have my photo taken with them. It's one thing to learn about a product from a website, but a completely different experience to learn firsthand from the manufacturer or business person individually.
Innovation & Advancement
There was a wide variety and range in products, and the ingenuity of the developers was impressive. From shotgun suppressors to personal protection devices in your tennis shoes, products ran the gamut. Some of these products will never be seen by the public, and some will have overwhelming success. Whether they were in law enforcement and tactical supply, hunting and outdoors, or firearms and ammunition, each division was a representation of the advancements made within the industry.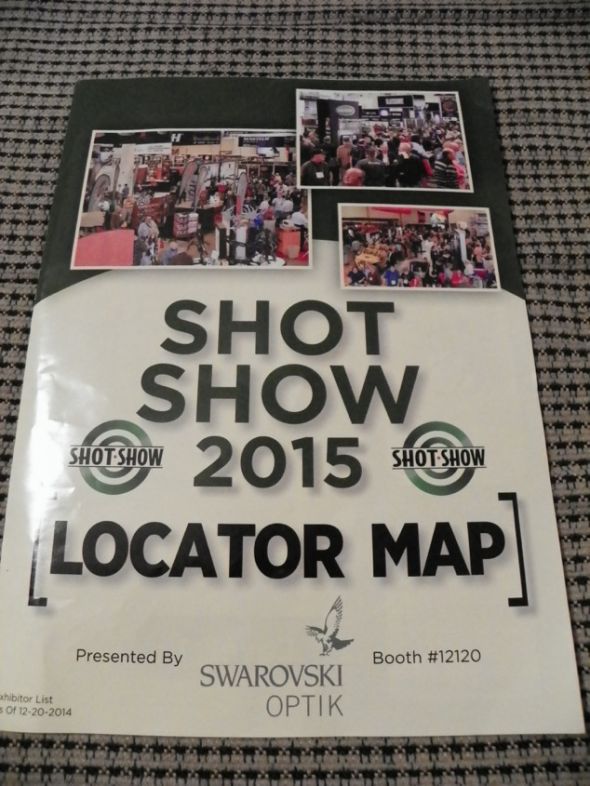 Organization
An expo of this size is no easy task. Obviously this isn't the first year for SHOT show, so many of the bugs have been worked out. Details such as having plenty of access to water stations throughout the expo center, maps of the show floor, and the shuttle bus system between local hotels and the Expo, it's all planned out! Now if only I could be that organized!
Community
I felt such a feeling of pride to be a part of this wonderful group of people. The community of firearms professionals, enthusiasts, and educators are truly high caliber individuals! (Pun intended!) I love the people that I get to work with and the students that I teach in my local area, and this week brought a renewed sense of purpose to continue educating everyone I know about firearms.
SHOT show far exceeded my expectations! The education I received and the people I met were invaluable and I'm already looking forward to next year! Hopefully I'll get to meet some of you there!
Stacy Bright holds instructor certifications from the NRA in Pistol & Rifle, as well as being an Range Safety Officer and Refuse to be a Victim instructor. She also is a Missouri CCW instructor and teaches various other home and personal defense courses. She has been instructing professionally with Canovi & Associates since 2011, and co-hosts a local radio show on Sat. mornings called "The Gun Show," Bright is passionate about educating, empowering, and developing confidence in those she trains. In November 2014, she started the Southwest Missouri chapter of The Well Armed Woman with the purpose of "Educating, Equipping and Empowering Women."
This retro WON first appeared Jan. 21, 2015.
About Stacy Bright

Freelance writer Stacy Bright holds instructor certifications from the NRA in Pistol & Rifle, as well as being an Range Safety Officer and Refuse to be a Victim instructor. In addition to her NRA credentials, she also is a Missouri CCW instructor and teaches various other home and personal defense courses. "In a field dominated by men, I feel I bring a unique perspective to firearms and training, especially to women. I'm passionate about educating, empowering and developing confidence in those I train. In November of 2014, I started the Southwest Missouri chapter of The Well Armed Woman," said Stacy. Stacy lives in southwest Missouri, and has been married for 20 years. Visit TWAW Facebook page: The Well Armed Woman-Springfield, MO Chapter. View all posts by Stacy Bright →