Retro WON – Guru Huntress: He Kept the Quack
I had to focus really hard when writing about this week's product because I seem to have nothing but turkey hunting on my mind lately; just a few short weeks and I will be in pure bliss. It didn't help that the product this week is made by one of my favorite turkey hunting product manufacturers and retailers.
My first duck hunt in Arkansas was a successful one even though we were battling a slow season. I heard about the hard season before I ever left the state of Alabama.
I had spent most of the morning listening to the guide blow away on his call and had become accustomed to the sounds of that call. Not having the opportunity to get the lessons that I had hoped on using a duck call and all the while knowing it was something that I would not be able to master for this hunt—I reluctantly handed my new lanyard and duck call over to our guide.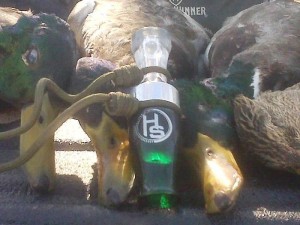 When the guide blew on the HS Bill Collector, it was like night and day. The Bill Collector was so much crisper and definitely louder than his favorite call, so much so that the guide even made a comment after working a duck into our setup. It was evident immediately that I wasn't getting my lanyard and call back … not on this trip.
The HS Bill Collector is a durable high performance, molded polycarbonate duck call available in single or double reed. The polycarbonate is polished and looks like acrylic with a brushed aluminum band. The call is easy to operate and rings like a single reed call and also allows the caller to make great raspy duck sounds. This call easily makes all duck sounds from ringing hail calls to feeding chuckles.
The Bill Collector is available in two styles, a single reed root beer barrel with clear insert (#08012) and a double reed mallard barrel with clear insert (#08013). I would love to tell you how quickly I caught on to using this call, but I don't think I will be getting it back from the guide any time soon. I guess that says a lot for the HS Bill Collector since the guide has approximately 30 years experience calling and preferred the HS Bill Collector over his favorite tried and true call on his own lanyard.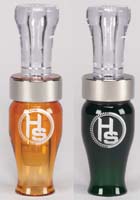 Endorsement Disclosure: Per the guidelines of the Federal Trade Commission, this product review is an endorsement and the writer was compensated by "in-kind" payment to review the product.
Follow the Guru Huntress at her own blog, "Shenanigans in the Field," HERE.

This Retro WON was first published February 10, 2010.
About The WON

The Women's Outdoor News, aka The WON, features news, reviews and stories about women who are shooting, hunting, fishing and actively engaging in outdoor adventure. This publication is for women, by women. View all posts by The WON →